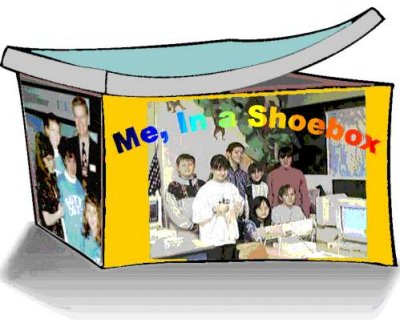 Thank you, Mr. D, for our shoebox image!
"What would you put in a shoebox that best describes you?" This is what the students were asked to write. We asked some of our keypals from around the world and our adult on-line mentors to do the same. Their responses are links on the bottom of this page. Don't miss them!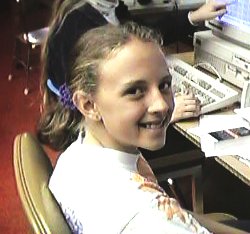 Hi ! My name is Lisa. In my shoebox I would put:
1. A computer disk because I love computers and I love to learn about the new things people have invented for computers. As my brothers say I am a computer nerd but i can't help it I love computers.
2. I CD that is by Donna Lewis because I love the song called I Love You Always Forever.
3. A picture of my cat name Garfield because I love him very much and I care for him a lot.
4. A picture of my family also. My family means a lot to mean. I love my family a lot and they love me a lot also.
5. I would put a megaphone or a pom-pom ina shoebox because I am a cheerleader and it is so much fun to cheerlead and I love it so much.
6. I would also put a little basketball (mini basketball) because I like to shoot and play a a game with my brother and sometimes my dad.
7. I would put a coffee bean in a shoebox because I love coffee.
8. A book because I love to read scary books but not GooseBumps they are not scary at all to me I think they are baby books.
P.S. Please write to me soon and tell me some things you could fit in a shoebox that will describe you.
Sincerely, Lisa
---
Hi!! My name is Tracy. I heard that we are doing a project. I will put my brother's picture, my baby cousins, and my dad's picture. What would you put in yours? I would put a chocolate candy, and one cd that I like. I will put that stuff in a shoebox because it is important to me. Got to go bye!!!!
Tracey
P.S Write Back
---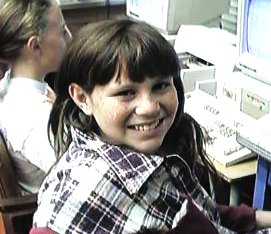 Waz up! My name is Teena. What is your name? This is what I would put in my shoebox...
1. 1 Cd of All For 1. Because I like the songs off the CD.
2. A picture of my Mom and Dad because I like them a lot.
3. A picture of the whole family. I love them all.
4. 1 computer disk.
5. The rings my Mom gave me. Because I LOVE HER!!!
6. Whatever else my whole family give me. So I can remember them!!
This is what I would put in my shoebox. What would you put in your shoebox? I hope it is what people can remember you by.
Teena
P.S WRITE BACK SOON
P.S.S.BY,BY,BY!!!
---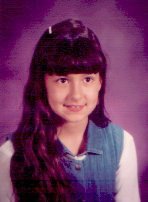 In "My Shoe Box" I would put:
1. a book- I love to read at night
2. a golf ball- I love to play miniature golf with my mom and dad.
3. an earring- I have 2 holes in each ear.
4. a gardening tool-I like to plant strawberries in the summer
5. a chocolate candy bar-I can't live without chocolate!!
6. a craft- when I get bored theres nothing better than making a pretty craft!
7. a pencil- I love to wite poems
8. a little bunny- they're all over my room.
9. something Tweety- I love Tweety bird!!
10. a miniature computer- I love to send e-mail

Stephanie
---
Our keypals and on-line mentors have told us what is in their shoeboxes.
Search The Global Classroom
---
Patricia A. Weeg
pweeg@shore.intercom.net Return to Global Classroom