Mr. D's Shoebox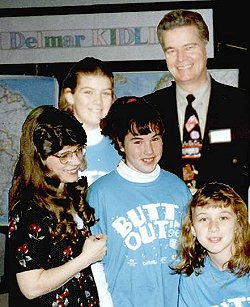 In my shoebox, that carries the essence of me, you will find:
1. A 3 1/2 inch diskette (used to be a 5 1/4 but everything shrinks with age)
2. 1 old brown loafer (some people say I'm as comfortable as an old pair of shoes)
3. Inside the loafer will be some foreign money (pesos from Argentina, a 50 franc note from France, some Bolivars from Venezuela)
4. Also inside the loafer would be an old photograph of me at 25 with long hair, a mustache and wearing a loud shirt (this is to remind everyone that I was once someone else)
5. I would place my Frequent Flyer Airline and Hotel cards in there, too (it would be nice to have a flat wallet again)
6. A roll of film, because I was once a pretty good photographer
7. A peach pit would represent by birth home, Atlanta, GA
8. A vial of sand and sea water would represent my present home, Coral Springs, FL

I think that's about all that there is to me. I hope it's enough.
Mr. D
Mr. D teaches us about the heart.
---
Search The Global Classroom
---
Patricia A. Weeg
pweeg@shore.intercom.net Return to Global Classroom