A Holiday Tour
of the Global Classroom

Come sit by the fireside with us, have some warm cider and we'll take you on a holiday tour. Our friends far and wide bring us holiday joy. We'd like to share it with you.
On Thursday Delmar students, Ashley, Amanda and Megan met our Russian
friend, Olya Malykh, for a real time chat using IRC. These four students have been part of the online course about Maryland that we are doing for Olya. It was the first time we had tried an IRC with Olya though my students and I have been corresponding with her for nearly three years. The girls typed to their Russian friend for an hour the last school day before Christmas break. While they typed they made a voice cassette tape for Olya and sang traditional American Christmas songs for her. My lab was full of excitement and these students crossed an Ocean and several time zones using a technology that is second nature to them now. Take a look inside.
We asked Olya how much snow is on the ground in Ekaterinburg and she told us the snow is two meters high!
From the IRC -
(Patti) snow still on the ground?
(Patti) we rarely see snow
(serge) Olya's right --a lot of snow here
(Patti) how much is on your ground now?
(olya) of course, snow is all around
(Patti) ohhh... send us some! ;-) we still see green grass
(serge) up to two meters high
(Patti) just like in your picture , Olya
(olya) With pleasure! ;-)
(Patti) hehehee..... here is comes.....weeeee....!!! snow flakes...
(olya) no, not so much
(olya) snow flakes is not very big

Olya drew some winter scenes for our students and sent them as e-mail.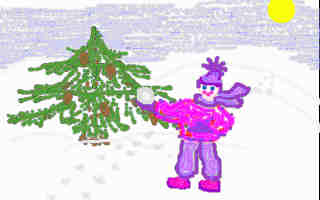 She also sent messages to the girls after the IRC.
---
Our friends in Norway have sent us their Christmas greetings and an ASCII Christmas tree. They have been such faithful keypals this year. We always enjoy their messages. Teacher Tor Arne also sent scenes from their city of Arendal, Norway.

Do you know which country has thirteen Santas?? and a very scary Christmas Cat? You better read this one. *smiles*

The students in Denmark tell us all about their NISSER and why you can smell rice pudding cooking all around the country. Better start cooking your rice pudding now!

Our friend, Meike, in The Netherlands wrote to us last year about Sinterklaas and made a picture of him for us. We love to read about him each year.

Magdalena, our friend in Kuwait, and her friends sent a description of Christmas in their country.

Fernando writes from Peru and tells the kids about a summer Christmas.

Our friends in Greece sent us Christmas wishes this week, too.

Delmar second graders who are doing a project with our friends in Japan have made pictures of Santa for their Japanese friends who also sent us their pictures of Santa.

Esty writes from Israel about Chanuka and the miracle of the oils.

Keypals in Portugal are writing Christmas stories with us. We plan to continue this cooperative writing after the holidays.

Warm greetings arrive on Christmas Eve from our friend, Asica, in Poland. She has made her own homepage and look whose name is on that page! ;-)

Kerstin and her students tell us about Lucia Day in Sweden. Take the link to their school homepage for a delightful view of Swedish children in the Lucia Day festivities.
---
We hope you have enjoyed your holiday visit in the Global Classroom. We'll put another log on the fire, have a refill of cider, enjoy some Swedish lusse katter and sing some holiday songs....
---
Patricia A. Weeg
pweeg@shore.intercom.net Return to Global Classroom