KIDLINK Meeting in Rio de Janeiro
August 1996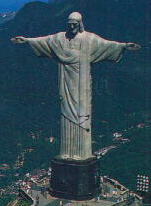 ---
The II Annual KIDLINK Meeting was held in Rio de Janeiro from August 12-16, 1996. KIDLINK people came from all over the world: Japan, Iceland, Norway, Sweden, Denmark, Slovenia, Israel, USA, Brasil, Uruguay, Panama, Peru and Puerto Rico. The geography of Brasil takes your breath away; the KIDLINK family captures your heart. The images below tell you why. Many, many thanks to our hostess, Marisa Lucena and all her helpers who made our visit so wonderful.
Saturday, August 10: Some of us arrive in Rio
Summaries of Working Sessions
V Encontro da Educacao com a Informatica
Food and Fun!
There's a saying on the Eastern Shore of Maryland that once you get our sand in your shoes you will always come back. Rio de Janeiro... I have your sand in my shoes...
---
Patricia A. Weeg
patti@globalclassroom.org Return to Global Classroom