Rio Session Report for August 13th, 1996, second session
Joyce Burtch, Recorder
---


Moderator: Epi Sepulveda
Presenters:
Isamu Shimazaki, Japan, Manager Japanese Language Forum
Claus Berg, Denmark, Manager KIDLEADER
Lars-Erik Nilsson, Sweden, Manager KIDCAFE
Patti Weeg, USA, Manager KIDPROJ

---
Isamu Shimazaki, Manager of Japanese Language Forum reported that in 1993, there were not enough computers, time for Internet and language barriers. There were many Japanese speaking students all over the world, but they couldn't use language letters, so they relied on faxed pictures to communicate without English.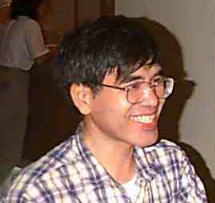 He spoke of a project done with his school in Tokyo and another school in Nebraska, USA. Both schools were named "Lincoln". In this project, a cooperative story and drawings about a travelling kangaroo was written and drawn by students at both schools and exchanged over fax. The project was very successful and is being repeated this year with a story called "Frog Tricks Toad".
In 1994, exchanges of color fax took place, adding to the texture and richness of drawings being exchanged. In 1995, a picutre drawn by Japanese students and a story written by Delmar Elementary School in Maryland was put on a t-shirt for all the kids who participated in the the project.
The project between Isamu's Rinkan Elementary School and Delmar Elementary School can be seen here:
http://www.intercom.net/local/weeg/tojapan.html
Also, in 1995, the Japanese governement tried to pilot 100 school networking projects. This was a 2 year project and next year's goals are not clear. There are many other language speaking families in Japan and parents are now working so links with other languages can be increased.
---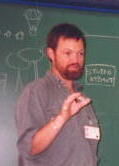 Claus Berg, Manager of KIDLEADER reported that there has been 2000 messages a year for the past three years but this year messages are down due to other language lists and other KIDLINK areas being opened. Subscribers to the KIDLEADER lists are at 702 - with North America at 440, Sweden at 48, Japan at 24, Canada at 22, Norway at 20, Iceland at 19. However, these figures can be misleading as subscribers can be more than one person.

What KIDLEADER is now:
Participants see this list as a place for information, excellent curriculum ideas, introductions, requests for help, and basically, a friendly area to get to know each other.

Summary: KIDLEADER is a place to keep informed about what's going on with TEACHERS

Strategic information:
Recently a question was put out on how to deal with the response message and batched messages
Proposals about dealing with responses came in
Proposals about ideas in general
Hurricane Bertha news was abundant
---
Lars-Erik Nilsson, Manager of KIDCAFE reported that during 1996, the discussion focused on insufficient control due to the number of subscribers and an inability to reach people to give them information. It seems, whatever is done, there is still too many messages, still too many inappropriate messages and too many unanswered messages.

What has been done:
KIDCAFE-COORD list has been started to aid in reaching people
KIDCAFE-SCHOOL has been started for moderator exchange
Registrations of schools is now possible which also cuts down down on the need for moderators
Teachers are now moderating
Areas under KIDCAFE now are:

KIDCAFE-COORD, KIDCAFE-INDIVIDUAL, KIDCAFE-SCHOOLS, KIDCAFE-TOPICS, KIDCAFE-QUERY

KIDCAFE and KIDQUERY had a variety of topics under discussion this year: dating, animals, music groups, religion, and abortion to name a few.

Biggest problems:
Cafeteam: workload
KIDCAFE-COORD: Subscriptions
KIDCAFE-INDIVIDUAL: amount of messages, unanswered messages
KIDCAFE-TOPICS: flaming
Strong Areas:
There is a steady stream of new subscribers
Allows individual participation
Reputation as a safe place
Easy way to find a keypal
There is fairly good support
---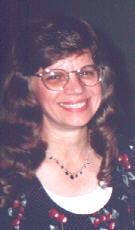 Patti Weeg, Manager KIDPROJ works with Grant Dougall and Jan Dalton.

Goals of KIDPROJ:
Wants to encourage global dialog (10-15 yr. olds) not just in messages but through KIDPROJECT also
Provide projects that will cross curricular areas
Assist project moderators
Support dialog among adults participating in KIDPROJ-COORD
The past 3 years, the multi-cultural calendar has been growing and now wants to have kids talking to each other about their holidays
Now on the WWW is the "Parade of Projects". i.e. Antarctic Adventure, Math Pen Pals (with many subtopics within), the 100th Day of School, Through Our Eyes, Inventions, Shipwreck, and Landmarks.
Statistics for KIDPROJ
34 countries are subscribed with 591 subscriptions. USA has the highest number of subscribers, followed by Canada.
There are 109 subscribers to KIDPROJ-COORD.
Looking Ahead to the Future and long-term goals:
Gain additional KIDPROJECT assistants
Increase country participation
Develop more multi-language projects
Develop additional support of teachers through KIDPROJ-COORD
Improve the quality of participation
* Patti's parting comment was: We all see Christ Redemptor statue on the mountain with his arms outstretched. What he is really saying is the same thing as I am for the KIDPROJ list. I want more and I want everyone! :-)
respectfully submitted by:
Joyce Burtch
email: sjburtch@tower.nersc.gov
KIDLINK Annual Celebration Coordinator
KIDLINK Rotary Contact Manager
---
Search The Global Classroom
---
Patricia A. Weeg
pweeg@shore.intercom.net Return to Global Classroom