Team,
Mahenaz replied to Carla's query:
"I wonder if one of your universities could help??"

- Mahenaz: "Our universities?? No way."

I am wondering what kind of support local universities around the world *do* give to schools in their communities. We are very fortunate at Delmar to have many good friends at Salisbury State University. A little over a month ago as SSU was upgrading to Pentium computers they donated twelve 386's to our school. We reformatted the hard drives (as they requested) and then loaded DOS and Windows 3.1 on them. I have installed Netscape on each computer so that the students can create web pages with Notepad and view their pages locally. This has been wonderful for the kids. Our "lab" of donated computers now proudly has 26 computers - enough for most classes to come as a whole group. We call it "The Write Place."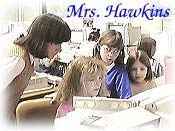 We use Notepad to type our e-mail messages, save them on a disk and then take them to one of the 4 computers that are online. The students use PaintBrush for drawing their art work for our Japanese and South American friends.
Visit the kids in "The Write Place."
http://www.globalclassroom.org/ssugift.html
and
http://www.globalclassroom.org/write_place.html
We operate our labs on a "shoestring" budget at Delmar and try to make the most of our friends in the community who are very willing to help us. A local retired gentleman who has previously mentored our "at risk" students at Delmar decided that this year he would mentor our lab of donated computers. He is donating his technical expertise to keeping our lab in working order.
Do the rest of you have such opportunities?
Patti