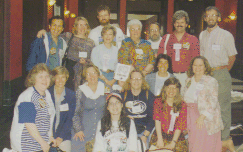 NECC '94 Scrapbook
Boston, June 1994
---
Dan Wheeler organized the KIDLINK International Panel which spoke at NECC '94 in Boston. We gathered together one evening early in the conference and finally put names and smiling faces together. This was the first time many of us had met each other.
In the very back row is Claus Berg from Denmark. In the second row are: (L to R) Oscar Becerra (Peru), Barbara Manchee (New York), Sally Laughon (Virginia), Mary Esborn (Connecticut), Dan Wheeler (Ohio), and Mark Hunnibell (Connecticut), Jim Kuhl (New York). First row: Rebecca Lawson (South Carolina), Alenka Makuc (Slovenia), Lara Stefansdottir (Iceland), Sally Bair (Pennsylvania) Sr. Diane (New Jersey), Patti Weeg (Maryland), Jamie Wilkerson (South Carolina). Sitting in front is Bev Thurber (Illinois).
For a closer look...
---
pweeg@shore.intercom.net
Return to Global Classroom Home Page