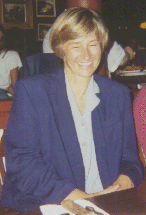 Alenka Makuc
Ljubljana, Slovenia
---
Alenka, KIDLINK's KIDFORUM Coordinator, came to Boston for NECC '94 and apologized for her English though she spoke the language quite well. Her beautiful smile was contagious and filled the gaps where her English failed her. She was more brave than I would have been in an unknown city. One afternoon several of us rode the Boston subway only to find Alenka already down there by herself on the way to some tourist attraction! Bless her heart... she was most confident and surely could find her way anywhere.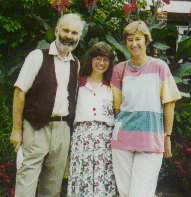 It was a real pleasure to receive a mail message from her announcing her return to the United States in August of 1994. Mike Burleigh was visiting me in Salisbury to help me teach a class on telecommunications, "The Global Classroom," so we drove to Silver Spring, Maryland and visited her while she was staying with a very nice family there.
Visit Alenka's homepage.
---
pweeg@shore.intercom.net
Return to Global Classroom Home Page