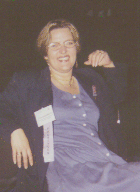 Lara Stefansdottir
Icelandic Educational Network
---
Lara, who is Educational Director for ISMENNT, joined us at NECC '94 in Boston and won our hearts immediately. She and I arrived at the Boston airport within minutes of each other that June evening last year. I stepped foot into the terminal after the flight and there she was! We didn't stop talking all the while the taxi drove us to our hotels. Though we were not staying at the same hotel we were just a few minutes walk apart.
At the hotel room later that evening Lara gave me pictures of her son, Gisli Tryggvi, a favorite keypal of ours from the Infant Project. In my suitcase I had packed a small red toy Maryland crab for him. During the Infant Project Lara sent my students an Icelandic coin set. While in Boston she gave me an Icelandic bill and I was fascinated by the Braille marking on it.
Visit Lara's homepage for more information about her.
---
pweeg@shore.intercom.net
Return to Global Classroom Home Page