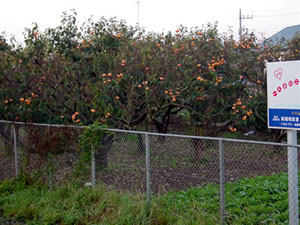 Isamu wrote: "We are thinking why persimmons are so few. But we could not find out the reasons."

Isamu sent us a picture of persimmon trees that grow in his city.

Teachers at Delmar tell us that they think persimmons are bitter.

Ms. Moore: "It tasted sour and felt funny in my mouth."
Mrs. Welsh: "It is very tart and slightly sour."
Mr. Alder: "It is bitter - not good."

Some classes of Delmar students are taking the survey now. We will post their results in our chart below as soon as the surveys are finished.