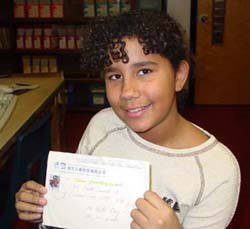 Delmar student, Elizabeth, decided to find out how much the stamp on our letter from Taiwan cost compared to stamps in the USA. She went to a currency converter on the WWW:

1 US Dollar = 33.95000 Taiwan Dollar

ELizabeth wrote to our friends in Taiwan:

We got your letter and I looked at the stamp. In your money it is worth 13 New Taiwan Dollars (NTD) and in our money it is worth 34 cents.

Your friend,
Elizabeth

Mooooorning Jessica, Allison, Liz, Casie, Linzy, Haley, Jaclyn, Hannah, Chelsea, Michelle, Mackenzie and Mrs. Weeg!!!!

How are you? From the e-mails some of you sent over yesterday I knew you are back to school. I guess you must be happy to see your friends again, although getting up early for school in winter mornings can sometimes be a drag ;-)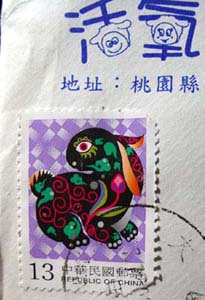 Glad you liked our small cards. There's a message in Howard's card that I'd like to share it with you now that you have the cards in your hand. The Santa says: "good things have to be shared (with freinds)-hau dong shi yao fen shang". You are great friends! I wish you could see your friends faces when they saw you wrote cards to them. I put them in a semi-see through plastic bag and Fanny (she was quick to peep!) told James: "I saw your name on something in the bag". James was restless until he had the card in his hand...You have done a great job, thank you!!!
You were doing the math to know how much we paid for the postage, just as we did on Monday when your package arrived. Yes, we pay NTD13=USD 0.38 for printed matters (cards, post cards, etc) that go outside Taiwan and NTD14 for regular letters. How much does your package weigh? We pay NTD540 (or NTD760 for a faster service) for a 1,5 kg package to reach Delmar.
Your friends are having their end-of-term exams at school as their are starting their winter break next week. They'll tell you about red pockets, of course! You can tell them the presents you get this year!
Hugs! It's lovely to receive your e-mails in the morning. Right now we are preparing surprises for you and everything should be done before the New Year!
Ana