Hi friends!

We loved reading your messages this morning. They got us thinking on a Monday morning. We have some answers and some more questions for you. Yes, we do like computer games and yes our school is big (over 1,000 students). No, we are not allowed to walk about in our school freely. We are wondering if you have a big cafeteria where you can buy your lunch or if you have to pack your lunch? ...We have never bathed in a hotspring, but we think that sounds really neat! We are also curious about the mountains since we do not have mountains near us. What are the mountains like? Do you have any Panda bears there or mountain lions??? ...Yes, we like living in Maryland.

If you visited us we'd take you to Ocean City which is a little over half an hour from here. It has a beach on the Atlantic Ocean and lots of fun things to do (rides, good food...), we'd take you to the park and the Salisbury Zoo (about 15 minutes from here), and the mall to go shopping (do you have shopping malls?), we'd take you to the library (do you have libraries?), and maybe we'd go fishing . Do lots of people like to fish there?

...We are also wondering about your transportation system. Ours isn't good where we live because we are in a rural community. We have to use cars or bikes or walk,except that many of us go to and from school on a school bus. How do you get to and from school? We hope you are having a great day! We look forward to your messages. (Are you getting ready to celebrate Christmas? What do you do to get ready?).

Bye for now,
Mrs. Andrews' class
---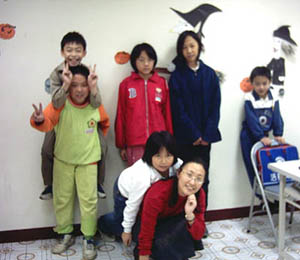 Dear friends from Maryland!!!
How are you? Thank you for your lovely message. It sounds like a lot of fun to visit Delmar! I bet you've been putting your heads together to come up with such an interesting itinery. I personally love the sea so I'd love to go to Ocean City-is it an aquarium?
I'll show the e-mail to your friends next week, as now they are preparing for their mini X'mas play-they will tell you in time what the play is about. Today their will have their general rehearsal in front of other classes as audience. Wish them good luck!
The Christmas song and dance you've seen in the video clip is one of the songs the whole school will sing before the party is over on Dec 24. You'll all be at home with your family then, right? But here your friends will be with their parents and friends, all at school, celebrating the event and exchanging gifts :-)
See you soon! Merry Christmas to you all!
Hugs hugs hugs hugs~~~
Ana