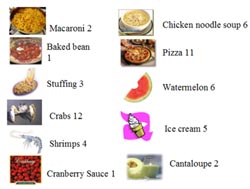 Dear Lauren, , Lauren, Zoe, Alexis,Danielle, Erin, Connor,Savannah,Christopher,Taylor, Dustin,Tressie,Jared, Taryn, Jade, Amanda, , Kara, Samantha, Kylie, Tionna, Franjari, Natalie, Taylor, Carl, Jonah, Jessica,William, Mrs. Andrews, Mrs. Hamilton, and Mrs. Weeg!

How are you all? Thank you for your patience...maybe a little bit late, but here we are!

First of all, following Ana's instruction, we noticed that the story book (If You Give a Mouse a Cookie) is in Chinese (the screen is slightly blurred so we coudn't see it well). You want us to go to US and read the story book to you... we'd love to, but Rudy is worried about how you'll understand the story if you don't speak mandarin?! Well, Ana told him that he can teache you; why not? Rudy can speak perfect Mandarin! He has an extremely loud voice!

We found that your two favorite foods are pizzas and crabs! We all like pizzas; yeah! Alice and Wendy don't like crabs, but Rudy, Allen, Apple and Howard do. We like your graphs very much; great job! Ana made a POwer Point file (see attachment) to help us understand your foods better, but most of your foods seem strange to us and we had to guess what they may taste like. Christine told us that stuffing was like our chaw fan (fried rice) but instead of rice it's made of potatoes...nobody here has tasted anything similar or baked beans. We were guessing what a cranberry was in Chinese and Alice came up with the correct translation, then she asked what macaroni was and Christine exlained to us: it's a kind of Italian pasta. Alice said that macaroni is small and hollow in the middle; is it right? We all like peanut butter and jelly (but Ana thinks that if she eats that for lunch everyday she won't be able to get out of any doors and instead of walking she'll be rolling: she will become too fat!). What!? Only 2 people like greens (Alice is surprised: she loves greens!) and 5 of you like ice-creams (Everybody is surprised!)!!!

We have small surprises for you! Wait and see! :-P

Hugs!
Alice, Allen, Apple, Howard, Rudy, Wendy, Chrsitine and Ana.