---
Patti: Hi Team, Isamu and I have begun a mini-project about our schools. We've started with the school playground but already the kids are asking questions about the school day. My students are taking a survey of some of their classmates asking what they like to play with on the playground. We are collecting the data, charting it and graphing it. We hope to gather data from some of our friends around the world and their schools. Isamu has sent us some pictures of his playground and we have pictures of our playground on the web page, too.

After we gather more data we will discuss what we see and try to make some conclusions (reach new insights).

http://www.globalclassroom.org/play.html

I hope you can see how we are trying to target learner outcomes that are important in our curriculum guides.

Our list has been quiet lately. I know we are busy in our various schools. I sure am! I am also preparing for new staff development classes for my county and preparing for presentations at SSU and Baltimore. Busy, busy....

Isamu: Oh, Patti, you are so fast to work on!!!!! I just saw your new pages. The pape students serveyed is wonderful idea.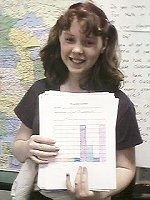 Patti: Isamu and all, It is important to build into our projects some learner outcomes that we must work on for our State directives. Collecting data, making charts and graphs are important for my 3rd and 5th graders since they are taking the Maryland School Performance test in one week. All of the kids need this, I know. Referring back to data is important when they make inferences. If you look at the survey chart you can see that no one selected the "rocking animals" to play with. Does this mean that the PTA wasted their money when they purchased them? or... does this mean that 3rd and 5th grade don't play on the playground where the rocking horses are? In our first chart where we listed the equipment on the playgrounds you can see where the rocking animals are.
Isamu:
!!collect data,
and make charts,
observe and finaly make some outcomes
So your students and teachers can select any theme on their interest. The most important thing is to adapt the way to learn, or process in the US system guideline.

Oh, I wrote opposite. For teachers and students it is important to study anything they want. Students first!!!!!

What I want to tell you, Japanese schools are not doing this way. Before students want to learn something, it is clear that they have to learn at the time in a year or totally in elementary school education. Japanese government decide one guide line for school education. And textbook publishers made the textbook. City or town educational part selects the textbook and give students for free. So teachers and students have to use the textbook to be given by local government. So all the year, in all part of Japan, students learn all the same thing, even if it is the place so cold and so hot. And most fun thing is to have to learn the same textbook even if they are not in Japan. Yes, if someone lives in Brazil, they have to learn using Japanese textbooks. so the first grade students have to observe a morning glory and dandelion, or something.

I strongly don't agree with this way of education, Japanese way of education. So I have to create my way, but it is not allowed for public.

But for these three years, I teach the students who came from Peru and Bolivia. I teach them Japanese language. We have no curriculum guide on this part of education. I have to create my curriculum. And I can use internet for officially now.

Some teacher eagerly want to know, why don't Japanese teachers join KIDLINK. All the reason is above.

I'm sorry I didn't the word picking up my dictionary. so some misspell here. Anyway I want to tell you this thing.

thanks, Isamu

Patti: In all of our projects that we create it is possible to link our outcomes. We just need to think about what they are and fashion the topics within the project.

My next task for the kids will be to make a chart with some of the data we are gathering about Isamu's school and our school. We have learned some things from his e-mail already:


Isamu's school
Rinkan Elementary
Patti's school
Delmar Elementary
# of students
900
1048
classrooms
25
38
grades
1st - 6th
pre-K - 6th
avg class size
32-40
25-30
buildings
2
1 +7 portables
floors
3
1 +1 over main hall
I can see a great math activity for my older kids - the average class size. They will have to collect data from each class and compute the average.
Isamu: I also want to ask another class. It is really wonderful so see that we do now in our school and students do with friends.
Patti: Yes, friends on this list from other countries... can you find someone to do this with us? ;-) It will be more fun and we will learn more, too.
Isamu: I'm also asking to jooin on KIDLEADER-JAPANESE.
Patti: Great! Isamu, I should really run this on KIDPROJ. I am, after all, the KIDPROJ Manager. ;-) I have asked someone to build the HTML for me on the KIDLINK web server if we do this on KIDPROJ. With all the other commitments I have (like this planning for Hawaii!) I am afraid to take on a major project right now.
Isamu: Thanks for your new pages,
Patti: Thank you, dear friend, for always cooperating with my "spur of the moment" ideas. Team, this is an important part of doing a global project; you must have a partner you can depend on. I have one! *thanks, Isamu!*
Isamu: Of course I always thank Patti's help. Yes, this is so important to get partners in domestic and aroad.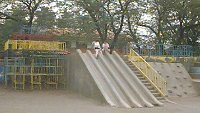 On making a global project, another thing from Japan, we have some language problem. We have to solve this language problem.
For this, Patti and I use drawings. Students wrote their native language and drew pictures that showed their opinions and explanations.
Pictures are more understandable for all students in the world. Playground project is for something new way to uderstand each other's NOW world.
Thanks Patti and all,
Isamu Shimazaki
Patti: Team, Isamu and I are building this project before your eyes. ;-) I wanted to close out the school year with a project that all my Title 1 students (ages 6-9) and the 10-12 year olds who come to me voluntarily during their recess time could do. I am making activities (charts, graphs, computing averages) according to their ages and capabilities. I have also given all the children a map so they can see where Japan is. We will be asking Isamu the name of his city so we can find their latitude and longitude.
Here is a great URL to find out the latitude and longitude for a city anywhere in the world:
We are in Delmar, Maryland. See if you can find our latitude and longitude. ;-) You can also see how many other Delmars there are in the world! Now there's another project! ;-) No... not now....
I also have a shareware software called "Geoclock" running on another computer all day long for the kids to see. It has a map of the world on the screen with the shadow of night that moves across the screen slowly... all day long as night comes to different parts of the world. It's fantastic. As we look at Japan on the screen during our school day it is always dark... Isamu and our friends in Japan sleep while we are in school. I love it!