Summarizing Our Thoughts
Week 1: February 27, 1998
Darrel: That brings to mind the following questions as far as training teachers and tech coordinators "How To ..." do these things.

These could be mini-topics for teachers this summer:
What do you use as your e-mail program? What programs have you tried out and do you see advantages in one over another? For example, I'm using Netscape 4.0 for e-mail but many may prefer Telnet or another program.
How do you do your HTML coding? Do you "hand code" or do you use an HTML editor? If so, what editor? Also, do you have your own web server at your school or do you FTP your files up to a district server? These are all procedures and practices that teachers or tech coordinators could discuss and benefit from.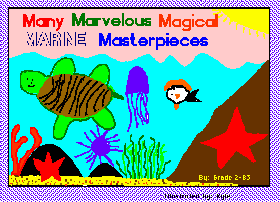 Moanalua Elementary
"Success Compact" refers to a literacy initiative from our present Superintendent. Although it is used by more elementary schools, it definitely has merits for all levels. It focuses on a comprehensive approach to developing word recognition, reading comprehension, and relationship skills. In our district it also includes a very comprehensive approach to planning where teachers have been inserviced in the use of "unit planning tools" to ensure a standards based approach and to encourage use of effective instructional and assessment strategies. As a result, many teachers have been developing "unit plans." At Aiea Elementary, we have purposely included a place to check for use of appropriate technology tools in this planning process, however, I'm not sure if this is a widespread practice.
Marilyn: Just some background regarding Success Compact. Success Compact has been the literacy thrust of our current Supt. of Educ (who will be leaving the position in June). In Success Compact, the teachers have been receiving strategies for addressing literacy primarily reading comprehension. The past two years, these strategies have been an integral part in the process of developing units. The purpose of the units is to use the strategies while furthering content knowledge as well as helping students to come to broader understandings. Thus, what you are suggesting for this summer pertaining to the use of the www would really provide the impetus of infusing technology into the existing curriculum.
Darrel: Most schools have someone identified as a "technology coordinator" but the responsibilities are as varied as you can imagine. In some schools, the tech coordinator may have a full complement of classes to teach, in other schools, the individual may have 4 or 5 other hats to address: computer literacy needs, technician troubleshooting, network planning, video instruction, gifted and talented programs, school-to-work, curriculum coordinators, student council, etc... What has happened with the advent of the Internet is that many tech coordinators who were computer education teachers now have had many additional duties added upon them with nothing being removed. It has been a difficult transition, especially because I personally believe that many administrators may not fully comprehend the enormous responsibility and increased tasks being asked of all tech coordinators. Trying to define and better understand the role and responsibility of tech coordinators is one of the issues we have identified for our Aiea Complex Tech Committee.
Marilyn:As Aiea Elem's "tech coordinator" I have had to do the following:
maintain a computer lab to which classes come on a need basis
oversee the implementation of TLC (IBM courseware being used in grades K-2
serve as system operator for School Vista by creating, managing files, addressing technical problems, troubleshooting, etc.
assist teachers with using the hardware as well as software
coordinate Title I initiatives as we are a schoolwide Title I school
serve as curriculum coordinator
coordinate Success Compact initiatives
meet regularly with students in grades 3-6 for enrichment.
Afterschool, I am working with a ThinkQuest Jr. team.
Darrel:
Thus far there have been many ideas generated for possible use for the 1 week training:
Identifying what we want teachers to leave with - project, unit plan, etc.
Possible discussion of use of tools: e-mail options, HTML options, FTP or FETCH type of procedures

Patti:My Internet and web page classes are on the WWW for anyone to see and use:

Internet in Education

http://www.globalclassroom.org/feb98.html

Introduction to Web Pages

http://www.globalclassroom.org/webpage.html

Darrel:

Examples of potential projects:

Landmark Game
Volcanoes
Thinkquest and Thinkquest Jr
Many more

Patti: In KIDLINK (for kids through age 15) there are many projects and topics. In my Internet class I have quite a few places listed where teachers can find projects.

http://www.globalclassroom.org/feb24.html and http://www.globalclassroom.org/resource.html

Darrel:

Discussion of how to assess student learning and use of technology
Discussion of an "exhibition" or "performance" sharing or celebration as a culminating event
Sharing opportunities for making connections with many others around the world - I think this should be a requirement of our summer training - each teacher would have to make specific connections with another classroom or teacher that they would have to follow up with throughout the school year - interactivity and communication and collaborative problem solving are "must have" activities that we need to bring into all of our classrooms.

Patti: This is one of my favorite things to facilitate. We could approach this from different angles:

You send me a list of suggested unit topics (e.g electricity, butterflies, Native Americans, fractions, persuasive writing - you name it) and I send out a call for willing mentors to be "with us" that week. Your _teachers_ make the contacts from the list of names and e-mail addresses I develop. How many teachers will be in the workshops?
Your teachers sign on to a listserv themselves and scout around for global partners. Finding someone could take a while and we might not see any collaboration the week I am there. I would love to have the partners connected before I get to Hawaii so we can dig in our heels and work that week. ;-)

Darrel:

Patti, are you aware of any good videos of model programs or projects that we might also use?

Patti: I have the Global Quest II video that NASA put out. There is a web page about it here:

http://quest.arc.nasa.gov/globalquest2/index.html

I can bring it with me.

Darrel:

I'd also suggest that we consider 2 strategies:

Having teachers bring an existing unit plan or lesson plan to see how internet and technology tools can be effectively integrated, and
Demonstrate how a new lesson/unit can be developed which incorporates the use of technology as a stimulus for critial thinking, problem solving, and higher level thinking.
Betty: Among other things... Aiea High School has been involved with DataHouse, a software development company located in Hawaii.. they are associated with Lotus...and others, for the past two years helping to pilot school related software.
Check us out at:
http://www.edusuite.com/aiea/
and
http://www.edusuite.com
or
http://www.datahouse.com
---
Knowing that one of our goals for the Summer '98 workshops is collaboration with teachers around the world I have invited a dear friend, Adriana, from Brazil to join us. She has many valuable insights! Please welcome Adriana with um grande abraco. (a big hug) - Patti

Hello, my friends!!!
I am Adriana Portella, I am 29 years old and I am an Art-Educator. Computers are something new for me (My first time was on 1995...), but now they are essencial for the continuity of my dreams, seaching for new skills and conquests inside Education... My Graduation was in Arts, I am a drawning teacher. I am finishing my Pos-Graduation in Education/Informatic and trying to connect Education, Art and Computers...
I work as the Director of an Elementary School in Rio de Janeiro, Brazil. Its name? Escola Municipal Professora Leila Mehl Menezes de Mattos. It is located on a very, very poor place of Rio. Our children have many problems and the social structure makes things much more difficult. But, leading the group of teachers, I try to make things easier by sharing with everybody, our main objective: Achieve quality and happiness through Education. Education doesn't end on itself... It must go far and far... Making our world a little bit better...
Well... There's a lot to say, but once someone told me that long e-mails are not polite... So, if anybody need to ask something else, here I am... We will be partners, as I see... I don't know exactly how, but I am sure that Patti will help me and you'll all forgive my Port-English...
Uma beijoca (a little kiss)
Adriana... But you can call me Adri ;o)))
---
Patti: Adriana and I have been working together with teachers in Japan, Peru and Uruguay in an art project that uses this medium to cross language barriers and encourage writing. This week three of my 8 year olds made some pictures that now add the dimension of science to the project. You can see that our online work can cross content areas and languages. The children were engaged and excited about writing, drawing on the computer and talking about their science.

Take a look at these budding artists. ;-) http://www.globalclassroom.org/soil3.html

The Alliteration pages from Moanalua Elementary use art as well. There are so many possibilities. We used Paintbrush in Windows. That's all. Nothing fancy.
---
Adri: Hello!!! Are you friends studing solid, liquid and gas??? There was a special brazilian poet Cecilia Meireles. She wrote a fantastic poem book for children. Its name: OU ISTO OU AQUILO = Or this or that... There are lots of poems about Water and other interesting topics that enchat children and adults... Are you interested on them??? What are the ages of the studenst that are drawing??? Maybe I can help you sending some melody through Cecilia's poems...
I will send you only one... When you speak the words of this poem in Portuguese, you feel like listening to the sound of the sea... Lots of CH make the sound of the waves coming and going... It's really beautiful and I hope you'll understand my translation...
Pescaria

Cesto de peixes no chao.
Cheio de peixes, o mar.
Cheiro de peixes pelo ar.
E peixes no chao.


Chora a espuma pela areia,
na mare cheia.


As maos do mar vem e vao,
as maos do mar pela areia
onde os peixes estao.
As maos do mar vem e vao,
em vao.
Nao chegarao
aos peixes do chao.

Por isso chora, na areia,
a espuma da mare cheia.

Fishing

Fish basket at the floor
Full of fishes, the sea
Smell of fishes in the air
And fishes on the floor.

The spume cries on the sand
on the high tide

Sea's hands come and go
Sea's hands through the sand
where the fishes are
Seas hands come and go
in vain
They won't get
the fishes on the floor

That's why cries, on the sand
the spume of the high tide.
---
Patti: Adri and all, I can see so many possibilities in this one little topic. We have just had some terrible storms because of El Nino which have damaged our beaches. "Sea hands" have stolen them from us. So, ... across the curriculum - art, science, weather, current events and writing. I'm so excited I can't even write in complete sentences today. ;-)
---
Adri: I was looking for artists' production to find something to ilustrate this topic. I found in http://lonestar.texas.net/~mharden/ftp_site.htm
Monet's pictures and there's one called "clouds.jpg" [Water Lilies (The Clouds)] that can help you and use Art as a partner of science (the picture shows solid, liquid and gas... and it's so beautiful!!!)... Why not???

This kind of link makes things easier to our students, because knowledge is not something divided into separated parts. We, as teachers, sometimes make big mistakes when we put the themes inside the topics... Let's integrate things. The vision of a better world makes it urgent!!!