Patti: A teacher in my school took my Internet class last month and has "jumped in with both feet." What a joy it is to have her with me at Delmar. You will be hearing from her soon on our list. She is a newbie to telecom and has connections to Hawaii. ;-) Carla and her third grade Title 1 students made and illustrated a circle story after we exchanged some e-mail with children's author, Laura Numeroff.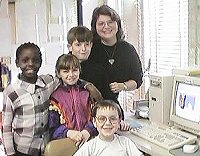 Please take a look at their precious story and pictures:
If You Give a Penguin a Popsicle
by Autumn, Brittany, Adam and Zachary
http://www.globalclassroom.org/popsicle.html
I'll let Carla tell you herself how she did this little lesson with the students and why she loves Hawaii.
Carla has heard and seen many possibilities that online activities can offer our students and teachers. She has caught the "fever" and exemplifies what we all hope to see when we teach staff development classes. She "sprouts" new project ideas every day and can't contain her excitement. It is a pleasure to see her wheels turning and her eyes sparkling. I know she will "infect" us with her enthusiasm, too.
Adriana was her mentor during my Internet class. You did a fantastic job, Adri!
beijos ;-)
---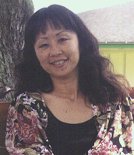 Lynne: Aloha Carla :) Welcome to the group...and I'll tell you a secret...newbies are the best techies...they're so full of enthusiasm and the willingness to try new things :)

And I'll tell you another secret....masquerade as a battery and I'm sure Patti'll bring you along to Hawaii ;)
---
Patti: Wouldn't I love to bring her! ;-) ....but I see a whole line of "batteries" lining up at the airport gate. Hmmm.... one looks strangely like my 18 year old daughter. Hawaii - two summers in a row. She's never going to forgive me!
Yes, Carla's eyes sparkle every day with new ideas. It's *wonderful*. You mention a very important thought that takes me back to the top page of our discussions. You inspired that first page, you know. ;-)
You said to me in a message:
"I believe that we teachers need to cultivate our "learner's instinct..." for if we approach the world, in wonder, as learners, there are countless epiphanies awaiting us out there."
We've rolled up our sleeves, put on our gardener's gloves and here we are in the garden - all of us from many different soils - South Africa, Israel, Pakistan, Japan, Sweden, Brasil, Australia, Hawaii and Maryland. How can we best prepare the "soil" so that all of us will feel the exhilaration as those first traces of green push through the soil and smile at the sun?
Carla seems to have come with her own very fertile "soil" that makes her unafraid to try new things and willing to seize opportunities. Ask her about the correspondence with the children's author and where this is taking her... her students... and her own daughter. ;-)
What can we do to help our colleagues experience the same opportunities? What are the obstacles that get in the way?
Some thoughts from "Net Lessons" by Laura P. Roerden:
The Internet and the WWW are new tools. Are we using them...
to do the same things we have always done? (replacing one tool with another)
to do things better, faster?
to change the potential of what we are able to do?
Your thoughts?
It's time for me to get ready for school! The sun has come up on my keyboard as I sat here this morning.
Warm hugs from Maryland's Eastern Shore...