Italy Comes to Delmar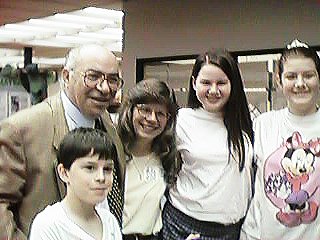 Carmelo Morina wrote to us in late December and wished "Buon Natale" to all the teachers and pupils at Delmar.
I'm an old Italian man who lives in Perugia- Umbria, 150 Km. north of Rome and about 140 South of Florence. Unfortunately I don't know English very good, but I'd like to tell you Merry Christmas and very, very, very happy New Year for all of you, teachers and pupils. Why you don't try to teach me more English ? I think it would be a good idea. Bye for now. Carmelo Morina
The younger students were learning about the many ways they can make 25 cents with our American coins. We decided to ask our friends around the world how they can make 25 cents with their money. Carmelo wrote and told us about his money in Italy called "lira." Thus began our friendship with the 68 year old gentleman from Italy who is now affectionately called, Papa Carmelo. How exicted everyone was to hear the good news that he was going to visit us in Delmar!
Now he is gone but we have our books and our photos to remind us of the smiling Italian "grandfather" we have in Italy.

---
Search The Global Classroom
---