About Italian Money
From Carmelo Morina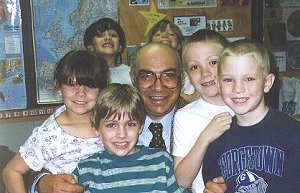 Papa Carmelo came to Delmar!
My dear little friends, Roxanna, Autumn, Bryan, William, Ashley and Craig,
First of all I had to congratulate you: you are very good at math, especially at money-math !!! I was very glad to read your messages and I will be delighted if afterwards you will send me lots of messages. Dear Autumn, you ask me how old I am: unfortunately I'm very old, I'm 68 and I am the grandfather of a child older than you. But we can be friends anyway and, indeed, we have to be close friends. O.K ?
And now I have to speak about Italian money. Our unit of measure with regard to money is the " lira ": once, about 90 years ago the lira was worth more than the dollar, that is you could buy more things with one lira than with one dollar. Now things are very different: today one dollar is worth about 1520 lire. At the moment in Italy there are these coins and these bills

COINS               BILLS
5 lire              1000 lire
10 lire             5000 lire      about $ 3.29
50 lire             10000 lire
100 lire            50000 lire     about $ 32.89
500 lire            100000 lire    about $ 65.79

The coins of 5 lire and 10 lire aren't used any more because their worth is too little so they are of no use. I have to do another remark: I wrote the unit is the lirA then I spoke about 5 lirE, not 5 lirA: that because lira is singular and lirE is plural: so you have to say 1 lirA and 2, 5, 1000 lirE. O.K ? I hope I didn't bore you. Bye, bye

Carmelo
---
Search The Global Classroom
---
Patricia A. Weeg
pweeg@shore.intercom.net Return to Global Classroom