Wyatt's first letter to Mrs. Szymanski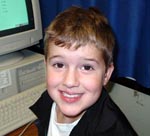 November 8, 2004
Dear Mrs. Szymanski,
My name is Wyatt and I am 9 years old. I like skateboarding and playing Playstation and I like playing football. I do like writing. I want to write a topic about skateboarding.
Your friend,
Wyatt

November 11, 2004
Hi Wyatt,
I am happy to read your email and to be able to meet you! We are going to have a good time working together this year. Sometimes writing seems like work, but it is truly a lot of fun to put yourself in the shoes of your story- character!
I am glad to hear that you like writing! I see that you like football, too. Do you watch the Ravens games? My whole family gets together for all the Raven's games. I don't understand football much, but I like watching it with my family. It's fun to share that time.
My daughter's boyfriend loves to skateboard, too. He's been doing it since he was your age and now he is 22 years old. He still skateboards almost every day. I will send you a picture of him doing a trick on his skateboard.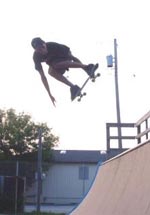 It will be fun to write a story together about skateboarding. Do you know what will happen in your story? Most stories start with a problem. As soon as you start reading the story, you find out that something is going on. By the end of the story the problem is usually solved. Maybe you could think of a problem for your skateboarder. The story could start with the problem. That makes the reader want to read more. The reader will want to find out how your character solves the problem.
I am excited about reading your story and watching it grow. Thre will be lots of changes, but that is how we writers work. We are going to have a great year together!
Warmest Wishes,
Lois Szymanski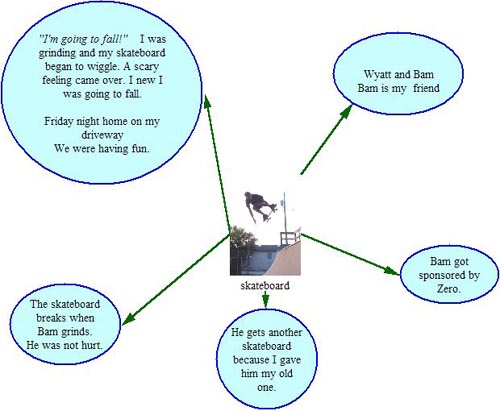 December 7, 2004
Dear Wyatt,
Thank you for sending me your story map. You did a good job! I was surprised to see you used the picture of Danny doing his skateboard trick. It was neat to see it on your story map!
Your characters are good. Stories are easier to write when there are just two characters, so it will make it easier for you to write! Make sure you tell a little bit about Wyatt and Bam, what they look like and what their personalities are like. Some of that will be easy to see if you have dialog in your story. Dialog is when you have your characters talking in the story. I love to read dialog because it feels like I am listening to a conversation! It makes the story real.
Your setting is a good one. The driveway is a good place to practice skating. Did your mom and dad build you a rail, or a half-pipe, or any skateboard practice pieces?
Your problem is a good one, too. I bet it is scary when a skateboard breaks right under you when you are riding it! It would sure scare me!
It is very nice of you to give Bam your old skateboard. I hope you write a scene about that. The reader would love to see the friendship between the two boys and this scene is a good place to show it. What will he say when he gives the skateboard to Bam? What will Bam say when he takes the skateboard? I bet he will be surprised and happy!
It will be fun to read your story as it grows. Write back soon, so I can learn more about Bam and Wyatt. We are going to have fun!
Your Friend,
:>)
Lois Szymanski
Skateboard
By Wyatt

"I'm going to fall!" I was grinding and my skateboard began to wiggle. A scary feeling came over me. I knew I was going to fall.

It was Friday night at 6:30 PM when Bam drove up and said, "What's up?" Bam is my friend from school. He's in tenth grade and I'm in ninth grade.

"Nothing. I'm just skating on my driveway. I'm trying to bust out a double heel flip," I told him.

Bam stayed for a while and we had fun. He was grinding and the board broke. We decided we should go to Baltimore to buy a new skateboard. We do not have any skate shops here. Baltimore is the city where Bam used to live and he knows the best stores for skateboards. Bam drove his car and my mom said I could go with him. It took us a whole day but we had fun. When we got back we wanted to skate but it was too dark. Bam likes his new skateboard a lot. He's a very good skater and wins a lot of contests. He's a real skateboarder and many people know him.

Element, a company that makes skateboards, sponsored Bam the first time he was sponsored during a contest.

January 20, 2005

Hi Wyatt,

Thank you for sending me your first draft. Your opening is very good! You opened in the middle action and with someone speaking! That's perfect! The reader is wondering if you are going to get hurt. That makes the reader keep reading! Maybe you could be at the top of a half pipe when you start to fall. That would make the reader even more worried.

The second paragraph would be a tiny bit better if you made the first line say, "It all started Friday night when Bam…"

As you skate you could compare yourself to your favorite famous skateboarder, maybe Tony Hawk. If you write with a lot of description, the reader will feel the air whizzing by, and the world turning upside down in a blue sky, when you do a flip. The reader might feel like a real skateboarder. The reader will understand why you love it!

Instead of Bam's board breaking, could your board break? Maybe that is what causes you to fall. The story is about you and Bam is a supporting character, so I want to know more about you and what is happening to you in the story!

Your story could describe your fall. If you tell how you feel and what you see as you come crashing down, we will feel like we are falling with you. Maybe Bam is hanging over you when you open your eyes, making sure you are okay.

I can tell you worked hard, putting in dialog, description, and thoughts. It will all come together as you put more of yourself into the story and I will be looking forward to reading the next draft!

Your Friend,
:>)
Lois Szymanski
Skateboard
By Wyatt

"I'm going to fall!" I thought.

My mind was racing as my skateboard began to wiggle. A scary feeling came over me. I knew I was going to fall very hard so I jumped off.

It was a cool Friday evening when Brandon drove up and saw me jumping off my skateboard. Brandon is my friend from school. He's in eleventh grade and I'm in tenth grade.

"What's up?" Brandon said

"Nothing. I'm just skating on my driveway. I'm trying to bust out a double heel flip," I told him. He said, "Cool! How long have you been trying to do that?"

"Like for a week." I said.

Brandon stayed for a while and we had fun. We were skating for a long time. It was nice outside and we stayed until it got dark.

I was doing a 50/50 grind when my board broke and all of a sudden the wind blew like a tornado when I dived toward the ground. The ground was up coming fast in my face. I got mad because that was my favorite board and it broke. I put my hands on my face and there was blood on them from my nose. We went inside to wash up.

Saturday morning my nose felt better but I was still mad because I didn't have a skateboard anymore. Brandon came over and we talked to my mom about getting a new one for me. I promised to help her clean the house and the garage to earn some money for a new board.

We decided we should go to Ocean City to buy a new skateboard. We do not have any good skate shops here in Salisbury. Brandon used to live in Ocean City and he knows the best stores for skateboards. Brandon drove his car and my mom said I could go with him. It took us a whole day to shop. We spent all day there and had fun. We skated at a skate park and went on the boardwalk.

When we got back we wanted to skate but it was too dark. I like my new skateboard a lot. This time I will be careful and won't be so rough.

Mrs. Szymanski's comments

Hi Wyatt,

I enjoyed reading your story. You have done a wonderful job on all the details. I can tell you worked hard!

I love the way you started your story in the middle of the action. It makes me want to read more! Then you go into a description of what is going on. Perfect!

It was fun learning some skateboard terms, like "double heel flip" and "50/50 grind". You must love skateboarding! It shows in your story, and that makes it enjoyable to read.

I like the way you had two problems going on at once. The first one is that he is hurt, and we wonder if he will feel better. The second problem is his broken skateboard. You resolved both problems beautifully.

In paragraph eight, I wonder if you could break up the first sentence and turn it into three sentences. It is a little bit long and awkward. Maybe you could make the second sentence say, "All of a sudden the wind blw like a tornado." Make the third sentence, "I dove toward the ground."

Short sentences speed up the pace of the story. That means it feels like things are going faster when you use short sentences. That is why it is best to use short sentences when you write an action scene.

I like the way you ended your story. He is feeling better and he has a new skateboard. Things are back to normal. That is how a story should end. Good job!

Thank you for sharing your rewrite with me. You have done written a great story!

:>)
Your Friend,
Lois Szymanski
Skateboard
By Wyatt

"I'm going to fall!" I thought.

My mind was racing as my skateboard began to wiggle. A scary feeling came over me. I knew I was going to fall very hard so I jumped off.

It was a cool Friday evening when Brandon drove up and saw me jumping off my skateboard. Brandon is my friend from school. He's in eleventh grade and I'm in tenth grade.

"What's up?" Brandon said

"Nothing. I'm just skating on my driveway. I'm trying to bust out a double heel flip," I told him. He said, "Cool! How long have you been trying to do that?"

"Like for a week." I said.

Brandon stayed for a while and we had fun. We were skating for a long time. It was nice outside and we stayed until it got dark.

I was doing a 50/50 grind when my board broke and all of a sudden the wind blew like a tornado when I dived toward the ground. The ground was up coming fast in my face. I got mad because that was my favorite board and it broke. I put my hands on my face and there was blood on them from my nose. We went inside to wash up.

Saturday morning my nose felt better but I was still mad because I didn't have a skateboard anymore. Brandon came over and we talked to my mom about getting a new one for me. I promised to help her clean the house and the garage to earn some money for a new board.

We decided we should go to Ocean City to buy a new skateboard. We do not have any good skate shops here in Salisbury. Brandon used to live in Ocean City and he knows the best stores for skateboards. Brandon drove his car and my mom said I could go with him. It took us a whole day to shop. We spent all day there and had fun. We skated at a skate park and went on the boardwalk.

When we got back we wanted to skate but it was too dark. I like my new skateboard a lot. This time I will be careful and won't be so rough.

Mrs. Szymanski's comments

Hi Wyatt,

Your finished story is very good! I learned a lot about skateboarding. I felt like I was in the story with you and Brandon. You drew me into it with that first line!

I just have a few tiny last minute things for you to fix. In paragraph 5 you need to make a new paragraph when Brandon says, "Cool!...." Whenever someone new speaks you need to make a new paragraph.

In paragraph 8 you have a little typing mistake. I think you meant to say the ground was coming up fast. You just need to switch the order of those words.

The end of your story is very good. You wrap everything up. I can't wait to see the picture you do to go with the story. I know it will be wonderful.

I am very proud of you and your final story. You have worked hard all year on it and the final story is outstanding!

Warmest Wishes from your Friend,
:>)
Lois Szymanski