| | |
| --- | --- |
| | "I'm Patricia. I saw your story it looks good. How are you today I'm fine. I'm 9 years old. I like animals and people too. What do you like animals or people? You ought to come here because you sound nice. I hope you like me. I would like to write about a horse." |
Patti tells the students that they will be writing a story with the help of an online mentor who has published children's books. The students browse some of the books she has written and the project webpages from the previous year. Students then send an e-mail to Lois from their student station in the computer lab where they have their lessons every day. The students tell a little about themselves in their introductions so that Lois can learn about the things that interest them. This information helps her when replying to the children. As soon as Lois's first reply arrives Patti begins to build the project's webpages.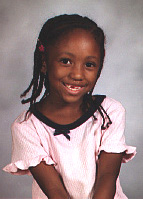 "I want to write a fun story. I am 7 years old. I like your stories. Are you going to write to me? I do not know what my title is going to be for my story."

Betty begins by talking to the students about the writing project. She shares information about the author, Sarah Weeks. The books that have been written by Sarah are read and discussed. Our author is also a wonderful song writer. She has been generous enough to send us cassettes of her songs that accompany her books. The students are able to listen to her book, Follow the Moon, while it is read and sung. There are several of her books on display for the students to look at and listen to. Following the introduction of the author, the students go to the computer stations and write a brief introduction of themselves for the author to read. The introductions make the project more personal. Sarah is able to learn a bit about the studentsí likes and thoughts. Ms. Weeks is able to go to the web page that is being created and see the photos of the students she is writing with. Sarah writes a reply back to the students upon receiving the introductions and so the project begins. The author is able to follow the progress of the project by viewing the web pages as they are built.
|
home
|
what?
|
why?
|
our program
|
how you can
|
---
Authors in Residence
: links to our yearly programs
|
Sarah Weeks 1999-2000
|
Sarah Weeks 2000-2001
|
Sarah Weeks 2001-2002
|
Lois Szymanski 1999-2000
|
Lois Szymanski 2000-2001
|
Lois Szymanski 2001-2002
|
Authors in Residence Online prepared by Betty Ryall and Patti Weeg
for the National Title 1 Conference - Tampa, Florida: January 24-26, 2002
| Authors in Residence | Elementary Math Students in the CyberZone |
www.globalclassroom.org
January 2002