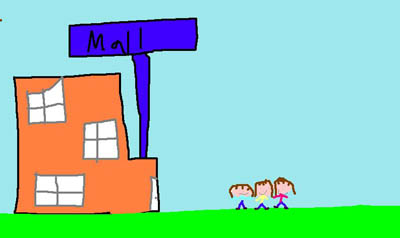 Lost at the Mall

By: Brooke
Tabitha looked at her watch again. "Where are they?" she wondered. She was standing near the entrance of the ladies room at the mall. She was looking for her friends, Brooke and Devonna. It was Saturday afternoon and the three had gone shopping for dresses for the school dance. Each one wanted to go to different stores so they split up and went their own ways. They agreed to meet at the ladies room at 4:00 PM because Tabitha's mom was coming at 4:30 PM to pick them up but no one was there when Tabitha got there.
"Oh well," Tabitha thought, "Brooke and Devonna are always late."
While she waited, she looked inside her shopping bag once more to see the pretty dress she had bought for the dance. It was exactly what she had hoped to find. She smiled to herself.
After they split up, Tabitha had gone Sears to look for a dress. She tried on lots of dresses. She tried on a purple dress with long sleeves. Then she tried on a red dress with short sleeves. The first dresses were not her kind. The other dresses were too long. Tabitha liked her dresses not too long but just a little long.
Finally, she tried on the last dress. It was blue with long sleeves. This was the perfect dress and she decided to buy it. She took it to the lady at the cash register who rang up the sale. The dress was $30.00. Tabitha looked in her purse and saw that she had $75.00. She had to be sure to leave enough money for shoes.
Next, she had gone to the shoe store to look for shoes and found a pair of black shoes that fit just right. She had just enough money to buy the shoes. Her outfit was complete.
Tabitha knew that Brooke had planned to go to Sears, too, to look for a red dress. She wanted to find the perfect dress. After she found a dress, Brooke told her friends she would look for jewelry to wear with her dress. Next, she had gone to the jewelry store and found a necklace that had a clear diamond on it. It was perfect for her new dress.
While Brooke was buying the necklace, Tabitha saw Devonna buying a purple dress. She went over to Devonna and said, "Why didn't you go to the ladies room at 4:00? I was there but no one else showed up. Now we need to find Brooke. It's getting too late! My mom will be here soon!
"Let's call her on your cell phone," Devonna said.
Tabitha called Brooke but there was no answer. She wondered if Brooke had forgotton her cell phone! All the while Brooke was at the ladies room waiting for Tabitha and Devonna and wondering where they were. She got tired of waiting for them at the ladies room so she went into the jewelry store to find a ring that she forgot to buy.
When Brooke didn't answer her cell phone, Tabitha and Devonna went to the ladies' bathroom but Brooke, of course, was not there anymore. They decided to look in the jewelry store to see if they could find her. All of a sudden they saw Brooke buying a ring. Tabitha and Devonna went over to Brooke and said, "We found you!"
The three friends went to the mall entrance to wait for Tabitha's mom who would be there any minute. Tabitha's mom arrived and took them all back to her house. At dinner time Tabitha called in a large pepperoni pizza. The girls planned a better way to meet somewhere for next time.