Brooke's first letter to Mrs. Szymanski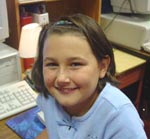 November 8, 2004
Dear Mrs. Szymanski,
My name is Brooke. I like to read and write rhyming poems. I like to eat pizza and shrimp. My favorite book is Junie B Jones. I love to read a lot. My topic will be about friends.
Sincerely,
Brooke

November 11, 2004
Hi Brooke,
It is a pleasure to meet you! I liked reading your letter and getting to know you a little bit. It sounds like you like seafood. So do I!
I am glad you like to read and write. Rhyming poems are fun to read. Who is your favorite writer? Will you write your story in rhyme? That's hard to do, but it would be fun. No one in Mrs. Weeg's groups has ever done a rhyming story before!
How do you like being in Ms. Weeg's class? She is such a nice person! By the end of this year she will help you put your story on the web. She knows a lot about writing, and about putting working on the web.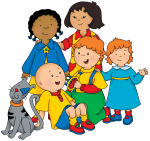 I like the Junie B. Jones series too. Stories about friends are fun. Do you have any ideas for your "Friends" story? Maybe you could write about something that really happened with you and a friend. Do you have any fun stories that you like to share about yourself and your friends? True stories make the best stories of all, because they come from your heart.
Most stories start with a problem. The problem makes people want to keep reading, so they can find out what will happen. By the end of the story the problem is usually solved. Maybe you could think of a problem for your friends to solve?
I look forward to hearing more about your story, and to working together this year.
Warmest Wishes,
Lois Szymanski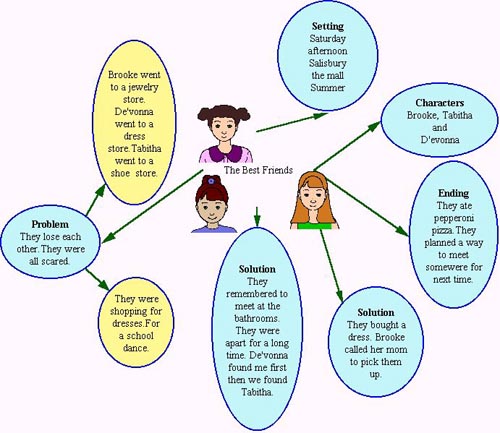 December 7, 2004
Dear Brooke,
Thank you for sharing your story map. You did a wonderful job planning your story. It would be very scary to get lost in a shopping mall!
You have come up with a good setting, and a super problem and solution. As you write your story, think about your setting. Make sure you tell a little bit about where your characters are in the mall, what they see, and what they hear and smell as they walk through. Help the reader feel it with your main character.
Some writers write a separate page about their characters, just so they can get to know them better. The page they write is not part of the story. It is only to help the writer know more about her own characters. One lady I know does a sheet about each character and she lists EVERYTHING! She writes down what the character looks like, wears, eats, and plays. She writes down birthday, habits, hobbies, favorite foods, games, and favorite colors. She even writes down information about his or her parents, what his or her house looks like, and more! She doesn't put all that in her story, but it helps her know her characters so well that she can write about them in a way that makes the reader know the characters too.
You might not want to do a sheet on each character, but make sure you know your characters well. Then you will be able to describe them so that we recognize them and picture what they look like as we read.
You already have a great idea, and a good start. I know it will be fun to read whatever you write.
Your Friend,
:>)
Lois Szymanski
The Best Friends
By Brooke

Tabitha looked at her watch again. "Where are they?" she wondered. She was standing near the entrance of the ladies room at the mall. She was looking for her friends, Brooke and Devonna. It was Saturday afternoon and the three girls went shopping for dresses for the school dance. Each one wanted to go to different stores so they split up and went their own ways. They agreed to meet at the ladies room at 4:00 PM but no one was there when Tabitha got there.

"Oh well," Tabitha thought, "Brooke and Devonna are always late."

After they split up, Tabitha went to the shoe store. Then she went to the jewelry store to look for a necklace and to see if Brooke was there. Brooke went to Sears and bought a long red dress with long sleeves. It took her a while to find the perfect dress. Next she went to the jewelry store and found a necklace that had a clear diamond on it. It was perfect for her new dress. While she was buying the necklace, Brooke saw Devonna buying a purple dress. She went over to Devonna and said, "Do we need to find Tabitha? It's getting late."

"Let's call her on her cell phone," Devonna said.

In the meantime the girls called her but there was no answer. Tabitha forgot her cell phone!

Tabitha got tired of waiting for Brooke and Devonna at the ladies room so she went into the jewelry store to find a ring that she forgot to buy.

When Tabitha didn't answer her cell phone, Brooke and Devonna went to the ladies bathroom but Tabitha, of course, not was not there. They decided to look in the jewlery store to see if they could find her. All of a sudden they saw Tabitha buying a ring. Brooke and Devonna went over to Tabitha and said, "We found you!" Then Brooke called her mom to pick them up. Brooke's mom took them all back to her house. Later, Brooke called in a pepperoni pizza. Then they planned a better way to meet somewhere for next time.

January 20, 2005

Hi Brooke,

Thank you for sending me your first draft. You have written a great opening. You opened in the middle action. The reader is already wondering and waiting with you and that is good.

In the third paragraph you tell where each person went and what they did. You need to keep it in one point of view. That means you can only tell things that the main character sees or hears. Instead of saying, "Brooke went to Sears and bought a long red dress," you can say, Tabitha knew that Brooke had planned to go to Sears to look for a red dress. Tabitha doesn't know where the others are, so she can't tell what is happening to them.

Maybe Tabitha could find Devonna buying the purple dress and they decide to look for Brooke? That would put Tabitha in the middle of the action. Remember as you write to pretend you are Tabitha and you can only see and know what she sees and knows as the story unfolds. It makes the reader feel like part of the story when she sees what is happening by hearing everything from the main character's point of view.

The idea of calling on the cell phone is a good one, but maybe Tabitha could be calling Brooke! How does she feel when there is no answer? I bet she is worried about her friend. I bet they feel relieved when they see Brooke. How does it feel to know she is safe?

Thanks for letting me read your first draft. I can tell you worked hard, putting in a lot of information. It will work super well when you put it all in Tabitha's point of view. I will be looking forward to reading the next draft!

Your Friend,
:>)
Lois Szymanski
Lost at the Mall
By Brooke

Tabitha looked at her watch again. "Where are they?" she wondered. She was standing near the entrance of the ladies room at the mall. She was looking for her friends, Brooke and Devonna. It was Saturday afternoon and the three girls went shopping for dresses for the school dance. Each one wanted to go to different stores so they split up and went their own ways. They agreed to meet at the ladies room at 4:00 PM because Tabitha's mom was coming at 4:30 PM to pick them up but no one was there when Tabitha got there.

"Oh well," Tabitha thought, "Brooke and Devonna are always late."

While she waited, she looked inside her shopping bag once more to see the pretty dress she had bought for the dance. It was exactly what she had hoped to find. She smiled to herself.

After they split up, Tabitha went to Sears to look for a dress. She tried on lots of dresses. She tried on a purple dress with long sleeves. Then she tried on a red dress with short sleeves. The first dresses were not her kind. The other dresses were too long. Tabitha likes her dresses not too long but just a little long.

Finally, she tried on the last dress. It was blue with long sleeves. This was the perfect dress and she decided to buy it. She took it to the lady at the cash register who rang up the sale. The dress was $30.00. Tabitha looked in her purse and saw that she had $75.00. She had to be sure to leave enough money for shoes.

Then she went to the shoe store to look for shoes and found a pair of black shoes that fit just right. Tabitha knew that Brooke had planned to go to Sears, too, to look for a red dress. She wanted to find the perfect dress. After she found a dress, Brooke told her friends she would look for jewelry to wear with her dress. Next, she went to the jewelry store and found a necklace that had a clear diamond on it. It was perfect for her new dress.

While Brooke was buying the necklace, Tabitha saw Devonna buying a purple dress. She went over to Devonna and said, "Why didn't you go to the ladies room at 4:00? I was there but no one else showed up. Now we need to find Brooke. It's getting too late! My mom will be here soon!

"Let's call her on your cell phone," Devonna said.

Tabitha called Brooke but there was no answer. Brooke forgot her cell phone! All the while Brooke was at the ladies room waiting for Tabitha and Devonna and wondering where they were. She got tired of waiting for them at the ladies room so she went into the jewelry store to find a ring that she forgot to buy.

When Brooke didn't answer her cell phone, Tabitha and Devonna went to the ladies' bathroom but Brooke, of course, was not there anymore. They decided to look in the jewelry store to see if they could find her. All of a sudden they saw Brooke buying a ring. Tabitha and Devonna went over to Brooke and said, "We found you!"

The three friends went to the mall entrance to wait for Tabitha's mom who would be there any minute. Tabitha's mom arrived and took them all back to her house. At dinner time Tabitha called in a large pepperoni pizza. The girls planned a better way to meet somewhere for next time.

Mrs. Szymanski's comments

Hi Brooke,

Thank you for sending me your latest draft. Your hard work is paying off. I really like the way your story is growing!

Your first sentence is perfect! You started right in the middle of the action. Ilike how she is wondering where her friends are. We know right away that someone is late and someone is waiting. It creates good story tension.

In the first paragraph you need to change the word went to had gone in the sentence that says, "It was Saturday afternoon and the three girls had gone shopping… It is a change in tense, which is a hard thing for all writers to get used to, even professional writers!

I love the second paragraph! It feels like I am waiting with you at the mall. You have drawn me into your story by adding Tabitha's thoughts.

I really like the next paragraph, too. It feels good to look at the dress in the bag. Getting exactly what you are looking for is comforting to us all!

In the next paragraph we have a few words that have to be changed because of tense again. You have written the story in past tense, but every now and then you slip into present tense. One sentence should say, "After they split up, Tabitha had gone to Sears to look for a dress. The last sentence in that paragraph should say, "Tabitha liked her dresses not too long, but just a little long."

Your fifth paragraph is very good. It keeps the readers interested and keeps them on track, reminding them that the girls are shopping for a school dance.

In the sixth paragraph you should say, "Next, she had gone to the shoe store to…." It is that tricky tense thing again. You want to keep your story all in the same tense.

I would split that sixth paragraph into two. I am not sure when Tabitha stops remembering where she has shopped and actually leaves the entrance to the ladies room where she is waiting, but it would work well if you added this in a new seventh paragraph. Maybe Tabitha decides to slip into the jewelry store while she waits for Brooke and Divonna? While she is buying the necklace she could find Devonna.

Devonna has a good idea when she suggests calling on the cell phone. It adds extra tension to the story when Brooke doesn't answer! This is good. It keeps the reader worrying! You might want to take out the sentence that says Brook forgot her cell phone, since they can not know this yet, unless they suddenly remember that Brooke had told them she forgot her cell phone.

I like the last two paragraphs a lot and I love the way you end with them eating pizza and making a better plan for next time!

Your story has made a lot of progress. It is fun to meet the characters in your story. It feels like I am going shopping with you!

Hugs from your friend,
:>)
Lois Szymanski
Lost at the Mall
By Brooke

Tabitha looked at her watch again. "Where are they?" she wondered. She was standing near the entrance of the ladies room at the mall. She was looking for her friends, Brooke and Devonna. It was Saturday afternoon and the three had gone shopping for dresses for the school dance. Each one wanted to go to different stores so they split up and went their own ways. They agreed to meet at the ladies room at 4:00 PM because Tabitha's mom was coming at 4:30 PM to pick them up but no one was there when Tabitha got there.

"Oh well," Tabitha thought, "Brooke and Devonna are always late."

While she waited, she looked inside her shopping bag once more to see the pretty dress she had bought for the dance. It was exactly what she had hoped to find. She smiled to herself.

After they split up, Tabitha had gone Sears to look for a dress. She tried on lots of dresses. She tried on a purple dress with long sleeves. Then she tried on a red dress with short sleeves. The first dresses were not her kind. The other dresses were too long. Tabitha liked her dresses not too long but just a little long.

Finally, she tried on the last dress. It was blue with long sleeves. This was the perfect dress and she decided to buy it. She took it to the lady at the cash register who rang up the sale. The dress was $30.00. Tabitha looked in her purse and saw that she had $75.00. She had to be sure to leave enough money for shoes.

Next, she had gone to the shoe store to look for shoes and found a pair of black shoes that fit just right. She had just enough money to buy the shoes. Her outfit was complete.

Tabitha knew that Brooke had planned to go to Sears, too, to look for a red dress. She wanted to find the perfect dress. After she found a dress, Brooke told her friends she would look for jewelry to wear with her dress. Next, she had gone to the jewelry store and found a necklace that had a clear diamond on it. It was perfect for her new dress.

While Brooke was buying the necklace, Tabitha saw Devonna buying a purple dress. She went over to Devonna and said, "Why didn't you go to the ladies room at 4:00? I was there but no one else showed up. Now we need to find Brooke. It's getting too late! My mom will be here soon!

"Let's call her on your cell phone," Devonna said.

Tabitha called Brooke but there was no answer. She wondered if Brooke forgot her cell phone! All the while Brooke was at the ladies room waiting for Tabitha and Devonna and wondering where they were. She got tired of waiting for them at the ladies room so she went into the jewelry store to find a ring that she forgot to buy.

When Brooke didn't answer her cell phone, Tabitha and Devonna went to the ladies' bathroom but Brooke, of course, was not there anymore. They decided to look in the jewelry store to see if they could find her. All of a sudden they saw Brooke buying a ring. Tabitha and Devonna went over to Brooke and said, "We found you!"

The three friends went to the mall entrance to wait for Tabitha's mom who would be there any minute. Tabitha's mom arrived and took them all back to her house. At dinner time Tabitha called in a large pepperoni pizza. The girls planned a better way to meet somewhere for next time.

Mrs. Szymanski's final letter

Hi Brooke,

The final draft of your story is very well done! It is very hard to write a story with many characters in it. But you did it! You sorted all your characters out and made them individuals. It is a very smooth story. You make me want to go shopping at the mall with my friends!

I like the way you added the part in paragraph eight! In paragraph 10 you just need to change the word forgot to had forgotten.

The end of your story is super. You wrap everything up and have the three friends making plans. Super!

I am very proud of how hard you worked on this story and of how wonderful the final story has turned out. I bet you found out that writing is fun! You've done a magnificent job!

Warmest Wishes from your Friend,
:>)
Lois Szymanski