My Best Christmas Present
By: Jenna
My best Christmas present was my puppy named Shelby. She is a Rottweiler. She is black and brown and she was 8 months old when I got her. She was very playful.
My mom and dad gave the puppy to me when I was 9 years old. She was a surprise and I got her for an early Christmas present. I got her November 3, 2003 at night.
Shelby is special because she was already house broken when we got her and she was so playful and she loves every body.
I still have my puppy and she is 1 year old. One time my dog Shelby went in my room and jumped right in bed with me. When I got in the bath tub she kept barking at me. I really love my puppy.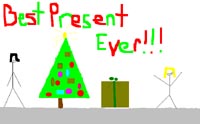 My Best Christmas Present
By: Lindsie
I got a T.V. for my 8th Christmas. It was in the biggest box. I got up very early to open it, I felt like the happiest kid ever!
I was totally surprised. I was about 8 1/2 years old. It wasn't on my list because I was going to get it for my birthday. My mom got it for me.
It was a combo TV. This means it is T.V. and a VCR it is white.
I still have it. It is on a stand next to my dresser. I use it all the time. I was the happiest girl ever!!!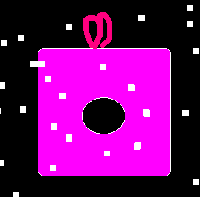 My Best Christmas Present
By Riley
The best Christmas present I ever received is a Game Cube and it is really cool. It was on my Christmas list. When I opened my present I felt like I wanted to do a back flip.
My grandmom gave it to me when I was 9 years old and I was so happy. I gave her a big hug. She wrapped it with paper.
You can play certain games on it like Super Mario Sun Shine. My favorite game is Super Mario Sun Shine because I love Mario and I have 32 shine sprites. Shine sprites are like little stars with 2 eyes and a smiling mouth. The sprites are hard but no too hard to get. I think I am a good player but I have yet to beat my uncle's score. I have 36 shine sprites and my uncle has 76.
I still have it and it's still working. I am glad I have it. Sometimes Game Cubes are frustrating when you loose you want to throw the remote I have not done that. The hardest part is catching shadow Mario. It took me a while to be a good player.