Pancakes
Student: Sandi B.

Sandi and her family moved to British Columbia from South Africa. Her mom, Liz Barrett, teaches at Xit'olacw Community School

Pancakes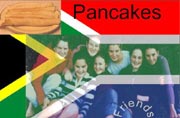 Ingredients
4 cups of Water
(You may substitute 2 cups of milk for 2 cups of water if you want to)
1 cup of oil
4 eggs
Add dry ingredients
4 cups of flour
4 tspns of baking powder
Half a teaspoon of salt
Recipe
Mix it well so that it is not lumpy. Leave mixture and let it stand for an hour. Then heat a frying pan and put a little oil in the base. Pour in a thin layer of batter and cook the pancake. Flip the pancake, to cook the other side. Sprinkle it with sugar and cinnamon and lemon juice. Roll it up and serve to your hungry friends! Variation: We like to spread caramel on the pancake and serve it with ice-cream!
Essay
I chose pancakes as my favorite recipe because my earliest childhood memories are of my mom making piles of pancakes for my sister and I and all of our friends to eat to celebrate Pancake Day or, as it is known in English church circles, Shrove Tuesday.
Shrove Tuesdays were especially good because then we would get pancakes in the middle of the week. I remember one year when we celebrated Shrove Tuesday at our school on the wrong day. My mom, a teacher, made pancakes for her class but we had got our dates mixed up and discovered the mistake the next day, when Anglican ministers told us that Shrove Tuesday was still a week away!
However, that mistake got us to start a new Barrett tradition: call up your friends and invite them over on any day of the year to celebrate Pancake Day! There is nothing better than sitting around a table with a group of friends, consuming vast quantities of delicious pancakes. My mom even has a recipe for pancakes to feed 100 people, so she is a pretty serious pancake-maker! We always have lots of friends willing to share in the stack of pancakes.
---
See more South African recipes here:
Image on this page is used with permission of Liz Barrett who moderated the Peace Diaries project. Thanks, Liz!