Student: Lyndi B.
Lyndi and her family moved to British Columbia from South Africa. Her mom, Liz Barrett, teaches at Xit'olacw Community School

Bobotie & Yellow Rice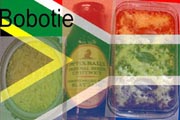 'Bobotie' came to South Africa via Malaysia. It is traditionally eaten with rice and a fruit chutney all South Africans love, called Mrs Ball's Chutney. This recipe came from my grandmother, 'Mother Rose', who lives in Queenstown in South Africa.
Ingredients for Bobotie500g minced meat
(ground beef or lean mutton)
1 thick piece of sliced bread
soaked in 250ml of milk
2 medium onions, sliced
(fry this in 25ml of butter)
Add 1 Tablespoon of curry powder
1 teaspoon of salt
1 tablespoon of sugar
2 tablespoons vinegar
1/2 teaspoon turmeric
3 bay leaves
2 eggs

Recipe for Bobotie
Drain milk from the bread, then mash bread with a fork and add it to the meat.
Add this to the curried onion mixture and cook. Stir well. Add a well0beaten egg to the meat mixture and mix. Put this mixture into a greased pie plate. Beat 1 egg with balance of milk made up to 250 ml of milk. Season with pepper and salt and pour this custard mixture over the meat mixture.
Dot a few pieces of butter on top of the mixture, adding bay leaves or lemon leaves, and place in another dish or pan of hot water. Place in an oven, pre-heated to 180 degrees Celsius. Bake for 30 to 40 minutes until the custard is set and lightly browned Serve with yellow rice, sliced tomatoes and chutney. Yellow rice, with raisins, is often served with Bobotie.
Ingredients for Yellow Rice
1 tablespoon sugar
1/2 teaspoon turmeric
1 tablespoon salt
2 tablespoons butter
1 cinnamon stick
1 cup raisins
2 cups white rice Recipe for Yellow Rice
In a large pot, boil 6 cups of water. Add first 7 ingredients and stir until the sugar has dissolved. Add the rice and cover. Let it all simmer for 20 minutes. Remove cinnamon stick before serving.
Essay
When the Malay slave women were sent from Indonesia to a strange land - now called South Africa - they brought with them spices to remind them of home. These multi-flavored 'masalas' added an exotic flavor to the food of the Cape. Bobotie was such a wonderful addition to Cape cuisine!
Bobotie is a dish to share, because it brings people together. At the moment we are living in Canada and whenever we have South African friends around, we make Bobotie.
I love its curry flavor and I am glad that the slaves that came to Cape Town brought this recipe to our country. My grandmother has passed on her recipe to her children.
---
See more South African recipes here:
Image on this page is used with permission of Liz Barrett who moderated the Peace Diaries project. Thanks, Liz!