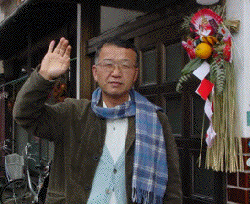 Dear Mrs. Weeg and Mrs. Goldman.

I'm very happy to received the question of your students. It's my response.
---
Hi Eric and Danielle.
Sorry,that picture is not a temple. It's a shrine. On the New Year's Day people pray to the gods for good luck during the year.
---
Hi Quamaine
"Mochituki" is the big event of New Year's Day from old times in Japan. On the day,the neighborhood have done "Mochituki" together . Therefore we have made it outside.
---
Hi Michael.
Japan is smaller country than U.S.A. But there are wide area from North till South. Then we get snow in the north of Japan but we get almost nothing snow in the south of Japan.
---
Hi Tyler
What's the mean? You said How do you get to school? Please tell me again. Sorrry, I can't understand English well.
---
Hi Monica
In the picture, I say "Hello dear friends the students of Goldman's class. Have a happy New Year's Day"
Thanks.
Takayuki.