Online Pattern Blocks
Ms. Damush's Second Grade Math Class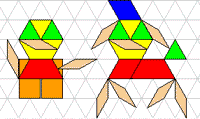 Iman

Ms. Damush's second grade math class visited the "Write Place" computer lab and made patterns using an online interactive website:

Pattern Blocks: Exploring Fractions with Shapes.

The website has links to suggested lessons using pattern blocks by Cynthia Lanius: No Matter What Shape Your Fractions Are In.

The students learned how to place pattern blocks on the grid and rotate them. They created AB, ABC and ABBCD patterns.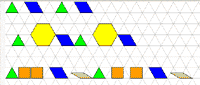 Quamaine's AB, AB
ABC, ABC and
ABBCD, ABBCD patterns.
They discovered that two triangles will cover the rhombus and 3 triangles will cover the trapezoid. After they created their assigned pattern they each designed a pattern of their own.

Ashley

Nikki

Mildred

Kelsey

Chelsea

Iman

George

Ahsley

Jacqueline

Brittney

Norman

De'Vaughn

Robert