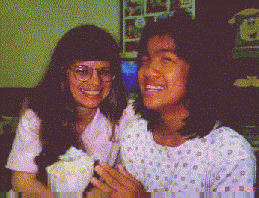 A Present For Peggy
From Maya in North Carolina
---
Glen Avenue Summer School students do the most exciting things! In addition to maintaining basic math facts and reading comprehension skills these Eastern Shore students in the Title 1 and Tuition Free Summer School are traveling around the world with their KIDLINK keypals.
Sixth graders are participating in a "Virtual Transaction" KIDLINK project and are getting the best deals for their $100. They are exchanging prices with friends in Brazil, Japan and New York.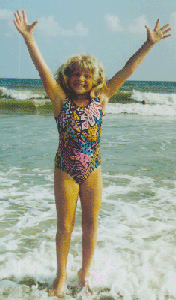 Third and fourth grade students, Candice, Lucas, William and Peggy are writing to their friend, Maya, in North Carolina and are enjoying Maya's letters in return.
Peggy, our blind student from Delmar Elementary School, had a tearful first day at summer school because she was unaccustomed to the new school setting. I saw her crying in the school office and recognized her immediately as one of our Delmar students. After lots of hugs and reassuring words those tears disappeared and were gone for good! Peggy is a loving child and makes friends easily and she has made a new friend in Beaufort, North Carolina!
She visits the computer lab daily and we write to her keypal friend, Maya, who was looking for friends to write to. Peggy and Maya quickly became good friends as they talked about hurricanes, the seashore and what they like to do in their playtimes. In the photo to the right Maya is enjoying the waters off the North Carolina coast.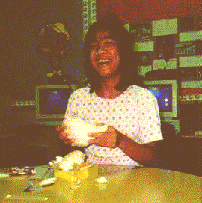 Recently Maya and her family went to the beach and collected many shells to mail to Peggy. Their parcel arrived on Thursday and Peggy could not wait to open it! Inside she found sand dollars, a conch shell and many other shells and egg cases. Her smiles and giggles brought joy to all of us in summer school. Before school ended on Thursday the telephone rang with a call from North Carolina. It was Maya! Those of us in the school office were touched to hear Peggy tell Maya, "I love you." Peggy made a Braille copy of an excerpt from one of her favorite books to send to Maya in the regular post.
There's magic in the air at summer school.... the magic of little children who teach us to see with our hearts.
Images on these pages were processed through the kindness of David Blosveren of CPI Photo Finish in Salisbury.
---
pweeg@shore.intercom.net
Return to Global Classroom Home Page