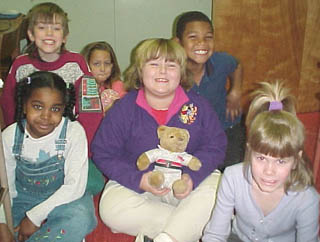 Mrs. Payne's first grade students found Danni's home on the map of Brazil. They liked the balloons that have Portuguese words on them. Darrell wanted to buy a balloon with US money so that Danni's box would have US money in it and he would get a balloon.

Casey: The best things in the box are the soccer shirts. I saw pretty postcards from Brazil.

Ariel: I like the postcards and Danni. He is cute and I liked to hold him. I like jello.

Darrell: I like the jewelry in Danni's box. I like the balloons and the soccer shirts. I like all the books in the box. I am happy that Danni came to see us and I like to hold him. I like to see the jello boxes.

Katie: I like the necklaces in Danni's box. The pictures are pretty. The jewelry is pretty. I saw a bible and beads that have a cross with Jesus on it. Mrs. Weeg says it is called a rosary.

Kiera: I like the key chains in the box. One looks like a tiny wallet. We saw boxes of jello in the box. We saw the money from Brazil.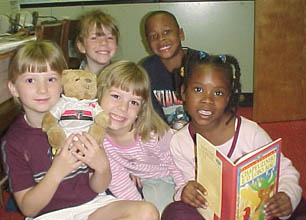 Mrs. Fykes' first graders liked the books in Danni's box. They are not written in English and they have letters that we don't have in our language. We will learn how to make those letters on our computers.

Hi Ben and Dylan,

Thank you for telling us about Danni. What kinds of pictures are in Danni's box? Do you see pictures of Danni's class in Brazil? Is there a picture of the students in Florida in the box? We wonder what Danni saw in Florida. Will you put your pictures in the box for us to see?

Why did Danni have to stay on the back table when you went to recess? Couldn't he go outside with you? What games do you play at recess?

Kourtney asks, "When will Danni get here?"
Thomas asks, "How old is Danni?"
De'Vaughn asks, "Does he talk?"
Joy asks, "Does he walk?"
Desirae asks, "Will you take Danni on a picnic or class trip?"
Chelsea can't wait to see Danni.

Write back soon, Your friends in Mrs. Fykes' first grade class
---
Friends in Kent Island, Maryland who saw Danni before we did sent us a message:
Dear Mrs. Fyke's first grade class,
Hello again from Ben and Dylan. In Danni's box there are pictures of household items from Brazil. There are also pictures of Danni with his friend from Brazil. For your second answer, yes and no. There are pictures of individual students. Yes there are a few pictures from Danni's visit in Florida. Danni was supposed to go outside, but we forgot to bring him. We are going to bring Danni out today. We play many, many different games such as kickball which the boys play, and tag which the girls play. Danni will be arriving there in a week, around Easter. We are sending him off on Wed. the 19 or Thursday the 20. For the next 3 questions, Danni is a teddy bear; therefor, he has no age and he doesn't talk or walk. We would take Danni on a class trip, but we are not going till the end of the year.
Sincerely,
Dylan and Ben
---
From friends in Seattle, Washington who will see Danni soon -
Mary O. from Kent Learning Center in Des Moines, WA asked Mama Bear Marcia in Brazil how old Danni was. They decided he was two years old last fall so he is almost 2 1/2 years old now.
Mary O. is the hostess from KLC that invited Danni and is planning his visit to our school when he comes to Washington state. She is a sixth grader in Mrs. Sedberry's 3-6 grade classroom.