My Trip to Florida
by Beth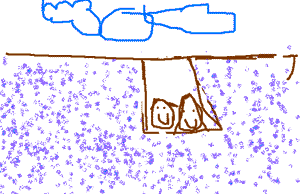 "I felt like I wasn't even in the car. People on the ground were everywhere and they were laughing. That's all I could see before I went into the water."
I looked down at Tyler in my lap. He was listening to me tell the story about our trip to Florida and the fun ride called Splash Mountain as though he was older than two months. Tyler, my baby brother, was born on New Year's day. He is still a baby so I watch him when my mom is doing something like taking a shower, helping my dad with his paperwork and doing laundry.
l like to talk to him when I watch him and tell him stories about Splash Mountain. He loves me a lot and likes to listen to my stories. He smiles at me all the time. He likes it when I push him in his stroller.
I went to my friend's house a few days ago and Tyler was sad because I was gone. He would not go to sleep for my mom. I picked him up when I came home and he went to sleep on my lap. He did not wake up for 2 hours. Now he is 3 months old . Soon he will be 4 months old.
Tyler smiled at me when I told him about another ride that was lots of fun. You would that he had been there to see it. We were in a cart that was spinning around and around. Dad and I got water all over us. Our socks and our shoes were soaking wet.
As Tyler smiled at me I told him, "Some day you will go to Florida with Mom and Dad. Maybe you will even ride Spash Mountain like I did."