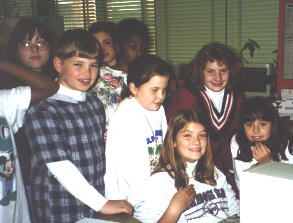 Using IRC Chats to Enhance the Curriculum
---
Mike Burleigh (United Kingdom) and I began using KIDLINK IRC to enhance ourlessons in the spring of 1993. We sent e-mail and used IRC to prepare for thechats. At first only the two of us used this medium but then we widened thescope as Social Studies teacher at Delmar, Martha Pfeiffer, and her studentsjoined in. We also invited a student form Cairo, Mariam Shenawi, to talk toour students about Egypt.
John Ost, KIDLEADR from New Hampshire, took the IRC a huge step forward andarranged an IRC chat with Zlata Filipovic, young author of Zlata'sDiary. Zlata has been called the "Anne Frank of Sarajevo."
KIDLINK IRC is a *safe* place for KIDLINK kids to chat. To find out moreabout KIDLINK and KIDLINK IRC take a lookat their WWW pages.
IRC Lesson Experiences
---
Search The Global Classroom
---
Patricia A. Weeg
pweeg@shore.intercom.netReturn to Global Classroom