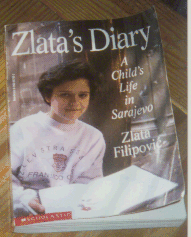 A Visit With Zlata
Arranged by John Ost for "The Writers' Corner" on KIDLINK IRC
---
John Ost, who has moderated the KIDCLUB "Writers' Corner" for over a year, invited Zlata Filipovic, author of Zlata's Diary, to join KIDLINK kids in a real time chat in early June. After quite a bit of organizing, help from many others and prayers John was able to successfully bring Zlata online for our KIDLINK kids on June 2, 1995. Notice the bent corners and pages on this paperback copy of Zlata's book. ;-) It was well read by Delmar kids.
John wrote to the KIDLINK kids:
"Zlata Filipovic is now 14 years old. The diary she kept beginning with her 11th birthday became a child's eye view of growing up in time of war. She became our eyes and conscience. I've asked her to talk about writing and keeping a journal. I asked her to talk about why she wrote and what writing means to her. And I've told her how many kids here are writing and thinking about violence right now. I'm hoping we can discuss both her writing and her life and what writing means to all of us. (Yes, it will always be a writers corner theme.)
Writing opportunities challenge:
Consider writing up this conference for you kid page in your local newspaper. wouldn't it be neat if kids throughout kidlink spread the news about their visit with Zlata? Don't just write that she's coming, write about the topics we are discussing.
Zlata is meeting us just before she heads for San Francisco to celebrate the 50th anniversary of the UN charter. Maybe KIDLINK San Francisco could cover her speech for us."
In preparation for the chat with Zlata several students and teachers read her book and formulated questions for Zlata. Several even wrote messages to her that were posted on KIDPROJ, the KIDLINK list for long term projects. The complete logfile of the IRC with Zlata is found on the KIDLINK gopher but I have made a link to an edited sample for you.
After the IRC 'visit' with Zlata the students wrote their reflections about it. Delmar teacher, Amy Crouse, also wrote her thoughts.
---
pweeg@shore.intercom.net
Return to Global Classroom Home Page