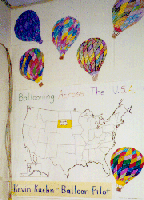 Mrs. Phillips' Class
Joshua, Thomas and Jonathan
---
From Mrs. Phillips:
"Our second grade class is following Balloonist, Kevin Kuehn, through the Internet which becomes their geography lesson. In the room is a large map which is colored in each time he lands in a new state. Each student has their won United States Map which they fill in with the name of the state and color it in. We discuss a little about the state and what region it is in the United States. When the children are finished with this project, they will have their own United States map filled in completely and knowledge about each state.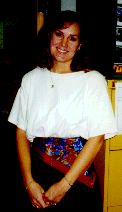 Our class helped launch off the ballooning project by each student making their own hot-air balloon. The balloons were made out of milk cartons with a balloon attached to it. Before making the balloons, we read stories about ballooning as well as funny stories such as Hot-Air Henry."
Mrs. Phillips
The students have written letters about their project.
---
pweeg@shore.intercom.net
Return to Global Classroom