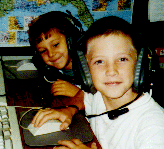 Letters From Mrs. Phillips' Students
Joshua, Thomas and Jonathan
---
Dear friends,

We made hot airballons. we used our milk cartons from lunch for the basket or gondola for the balloon. The basket carries people. Mr. Kevin is in the balloon. it is fun.
Joshua
Dear friends,

we made hot air balloons. we blew up balloons and we took straws we put the straws in the basket and then we taped them. We used two straws. We taped the straws to the balloon. i like to makehot airballons.

Thomas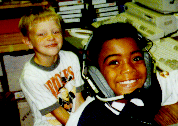 Dear friends,
The maps we are making show all the places where Mr kevin is going in the hot air balloons. We color states where Mr. Kevin is going. I colored North Dakota, Sotuh Dakota and Minnesota. This is fun to color the places he has been.
Jonathan
---
pweeg@shore.intercom.net
Return to Global Classroom