From Delmar Elementary School, Maryland:
Dear Max, Yossi, Janna and friends,
We saw your pictures! We have these toys, too, but we call them Crazy Bones. We play games with them, too. One of the games is bowling. If you have the bouncy kind you can play basketball with them.

Christopher says: "I have some and will bring them to school next week."
Thank you for writing and telling us about Jojos. Your pictures are great.
Your friends at Delmar,
Christopher, Tiffani, Kyle, Paige, Delonte and Charles
---
Christopher brought his "crazy bones" to school as promised.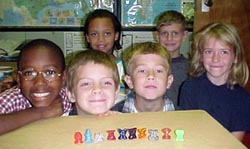 Dear Max and friends,
When I saw your jojos I knew they were just like my crazy bones. I brought my crazy bones to school. We measured a pencil with them and we found out that it takes 7 crazy bones to measure our pencil. Our pencil is 19 centimeters. We use inches when we measure. My new pencil that has never been sharpened is 7 and a half inches long.
Your friend,
Chris
---

Dear Max and friends,
Thank you for showing us your jojos. I like them. We have a toy that looks almost like them. They are called crazy bones. We measured our pencils with the crazy bones. We needed seven crazy bones to measure our pencil.
Your friend,
Charles
---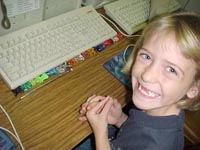 Dear Max and friends,
I can line up 7 crazy bones next to my pencil. I estimated about how many crazy bones I could line up next to the keyboard. I thought it would be 20. I was close but I missed by three. I guessed too high. Can you tell me how many crazy bones fit along the side of my keyboard?
Both of my grandmothers are in heaven. I never saw either one but I live with my grandfather and I love him very much.
Your friend,
Tiffani
Grade 2