Penguin Age
questions from Sweden
---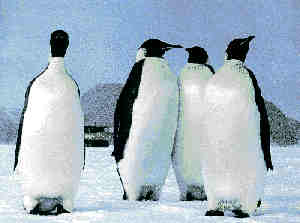 Hello!
I´ve got a pupil in class 1 who is working with a project about penguins. She wants to know how old they can get. Can you help us? She lives in Kyrktåsjö in Sweden and her name is Jennie.
Thank you :-))
Annika
anthu@educ.umu.se
---
To: "Annika Thunström" [anthu@educ.umu.se]
Subject: Re: question about penguins.


Annika,

I am sorry for the delay, but I was hoping to get to the library. I have not had a chance to get to the library, and I do not know how long they can live. I will drop you a note if I can find the information. We had a group of Emperor penguins near McMurdo for a few days over the weekend. I was able to watch them play. I was also able to hear them trumpet early in the morning, when things were quiet.

Dave
David Hess NK3T


dhess@shore.intercom.net Presently living in beautiful downtown McMurdo, Antarctica.
---
Search The Global Classroom
---
Patricia A. Weeg
pweeg@shore.intercom.net Return to Global Classroom