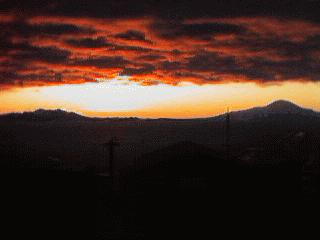 The First Sunset of the Year
In Antarctica
---
Hi Stephanie,
I am doing fine, but I slept through the sunset. I just could not stay up that late. It was at 11:56 PM, way past my bedtime. I just called Matt, he is working this evening. I asked him to take a picture. Maybe we will both have something to look at tomorrow.
Thanks for writing,
Dave
---
Hi Patti, Sorry, I slept through it, but I did have a good night's sleep. Matt came to our rescue. Attached is a picture of the sunset.

Sorry,
Dave
David Hess NK3T


dhess@shore.intercom.net Presently living in beautiful downtown McMurdo, Antarctica.
---
Patricia A. Weeg
pweeg@shore.intercom.net Return to Global Classroom