Stephanie's Poem

Stephanie sent Prospector Parker a poem she had written from her computer at home. He encouraged her to add to what she had written and this is the result.
Dear Prospector Parker,
How are you? I got your letter at home. I took your advice on how to make my poem longer and...well...here it goes.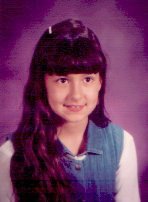 Under the sea
there lives a fish,
who eats his dinner
off a great big dish.

On Sunday nights
when he drinks out of his mug,
he always finds
a big black bug.

On Monday nights
when he uses his bowl,
his shirt always
gets a hole.

On Tuesdays nights
when he eats off of his plate,
he always gains
a lot of weight.

On Wednesday nights
when he sits in his chair,
he'll always run into
a big black bear.

On Thursday nights
when he uses his fork,
he always eats
a piece of pork.

On Friday nights
when he eats with his spoon,
he always eats
until out comes the moon.

On Saturday nights
when he uses his knife,
he always eats
until in comes his wife.

When he was done
eating off of his dish,
when someone found it
they would get a wish.

What do you think??? Your birthday is on November 13th and that is why you told us your age on the thirteenth.
Stephanie
---
Search The Global Classroom
---
Patricia A. Weeg
pweeg@shore.intercom.net Return to Global Classroom