Can Your Figure Out My *Real* Age?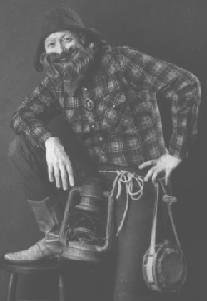 Sometime back a few young'uns asked my *real* age and I said I would let them know on November 13th--a special day for me---but it will not be easy to find out the answer :
Start with the year Abraham Lincoln was first elected President Add to it the age Theodore Roosevelt was when he first became President Subtract the number of states the Town of Delmar is in Now divide by the number of states in The U.S. Then multiply by the number of sides in a triangle Add to it the number of the original colonies Now subtract the number of letters in the alphabet Subtract the number of characters in my "Simple Simon" play Now that you have that number divide by 2........ You'll have the answer---and if you are able to do this problem you are unbelievable..you'll need help, but use books, and you can find the answers!!!!!!!!!!!!
Best of Luck
Prospector Parker

Dear Delmar friends:
We are in the middle of another busy few days. Yesterday (Wednesday) I and Mr. amd Mrs. Wills traveled to Fruitland Primary in Fruitland, Maryland to do two performances of "Simple Simon". It was really fun. There school only goes up to the third grade!!
Today Mr. and Mrs. Wills travel to a retirement community called Cokesbury Village near Wilmington, Delaware to portray Theodore and Edith Roosevelt. Then on Friday they travel to another retirement community called Asbury-Methodist in Gaithersburg, MD where they will portray Calvin and Grace Coolidge, Herbert and Lou Hoover. Then it's back home to Ocean City.
A few questions for you:
If you can find a Delaware-Maryland map, can you locate Wilmington, Delaware and Gaithersburg, Maryland ?
Do you know who Theodore and Edith Roosevelt, Calvin and Grace Coolidge, Herbert and Lou Hoover, are?
When we go from Ocean City to Wilmington we will travel 115 miles/ Wilmington to Gaithersburg is 120 miles and finally Gaithersburg back to Ocean City is 158 miles. How many miles will Mr. and Mrs. Wills travel on this whole trip ? Talk to you again when we get back.
Your friend,
Prospector Parker
---
Search The Global Classroom
---
Patricia A. Weeg
pweeg@shore.intercom.net Return to Global Classroom