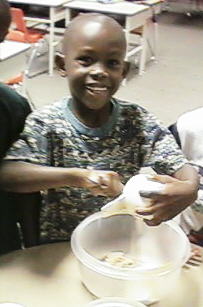 Recipe Reading Skills
Jean Montague's Class
---
While enjoying the story, If You Give A Mouse A Cookie, by Laura Joffe Numeroff, we also practiced our recipe reading skills! We followed the recipe and enjoyed a delicious batch of chocolate chip cookies.
Chocolate Chip Cookies
3/4 cup butter
1 1/4 cups brown sugar
2 tablespoons milk
1 tablespoon vanilla
1 egg
1 3/4 flour
1 teaspoon salt
3/4 teaspoon baking soda
1 cup chocolate chips

Mix butter, brown sugar, milk, vanilla, and egg in a large bowl. Beat with mixer.
Add flour, salt, and baking soda. Mix
Stir in chocolate chips
Drop balls of dough (teaspoon size) of dough on baking sheet
Bake in oven at 375 degrees for 8 to 10 minutes
STUDENTS COMMENTS:

Pia Church: "We put the ingredients together. I love the cookies because they are chocolaty!"
Damar Handy: "They are very sweet and they taste very good!"
Keith Hovington: "I got to add some flour and I ate all of my cookies."
James King: "I stirred the wet ingredients up. The cookies are great because everybody helped make them."
MISS JEAN MONTAGUE'S CLASS
---
Search The Global Classroom
---
Patricia A. Weeg

pweeg@shore.intercom.net
Return to Global Classroom