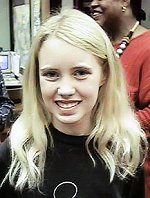 KIDLINK is doing a Multi-Cultural Recipe Book project and this message from Macia came across the listserv. We wrote back to Macia and an e-mail exchange began between Macia and 5th graders, Delores and Stacey. On Halloween Day Macia and her Mom and two younger sisters came to Delmar to visit us! They were taking a field trip to Washington, DC and stopped in Delmar for a visit. Everyone enjoyed meeting Macia and her family.

Macia's first message:

I am a home schooled girl in 7th grade. My name is Macia and I am 11 years old. My parents both come from different backgrounds. My dad is Dutch and my mom is a big mix but mostly Irish. I live in a suburb near Grand Rapids, Michigan. I enjoy ice skating as well as listening to and playing music.

Here is her recipe:

Participantís Name - Macia Noorman
Title - student
Age - 11, Grade level - 7th grade
School name - Noorman Family Homeschool
Country - U.S.A
Recipe name - tacos
Type of dish - main dish


Ingredients - 1 lb. Ground Beef, 1 large chopped onion, 18 corn tortillas, 2 cups vegetable oil, chili powder, cumin, seasoned salt, garlic (fresh or powder), grated Colby cheese, chopped lettuce, chopped tomatoes or salsa

Instructions/ Directions - Brown ground beef, onion and garlic in frying pan. Drain excess fat. Season with 1 tablespoon chili powder, 1 teaspoon cumin and salt to taste. In large skillet heat oil for deep frying tortillas. Holding individual tortillas with tongs fry in oil until just beginning to stiffen, fold in half with tongs and continue frying until tortilla holds the folded shape. Cool tortilla on plate covered with paper towels. When still warm fill folded tortilla shell with ground beef and top with grated Colby cheese, chopped lettuce, chopped tomatoes or salsa.

MMmmm...My mom makes the best tacos.

My mom makes us tacos on Christmas Eve or whenever she has the time to. This recipe probably comes from Mexico. Having tacos on Christmas Eve has become a family tradition. It comes from my moms side of the family. When she was young her family always had tamales and oyster stew on Christmas Eve. My mom can't make tamales, so we have tacos. No one in my family likes oyster stew! My mom grew up in Arizona so we eat a lot of Mexican food at our house. My mom was 16 years old when she learned how to make tacos. A Mexican lady named Tomasa, who helped her family after her mother died, taught her how to make tacos when my great grandfather was having friends and family over for a Mexican dinner.
---
Dear Macia
I liked your recipe a lot. My name is Stacey. I am 10 years old. How old are you? I live in Delmar, MD. What is your favorite subject? Mine is reading because I like to read. What is your global address? Mine is 38n 75w. Have you ever traveled outside of your country?
Well Bye bye For Now,
Stacey
---
A class in Hawaii wrote back to Macia:
Dear Macia,
Thank you very much for your recipe. Our entire class got extremely excited and your recipe was shared aloud. In addition, at Manoa School we held our "Open House" event where parents come to visit our classroom, and our parents were told about your recipe. Thank you for being the first one to participate. Also, if you have more to share, please do not hesitate to share more recipes with us.
Mahalo,
(Thank You in Hawaiian)
Mrs. Nakasone & her 6th grade class.
---
Macia sent another recipe:
Stompot
Ingredients: half a head of green cabbage, 7 or 8 potatoes, 1 lb. of smoked sausage, water
Directions: Peel and quarter potatoes. Put potatoes in a Dutch oven or large covered sauce pan. Add enough water to just cover potatoes. Core cabbage and slice into thin strips. Put in pan on top of potatoes and water. Cut sausage into several pieces and place on top of cabbage. Cover pan and cook over medium heat until potatoes are done and cabbage is soft. Serve cabbage, potatoes and sausage together with pan juices on top.
Stompot is a Dutch recipe that was popular right after World War 2. My grandparents lived in the Netherlands during World War 2. Stompot was made a lot because potatoes were very filling and sausage was cheap. My grandma taught my dad how to make this when he was in high school. We call it Cabbage, Potatoes, and Sausage. The Dutch people that used this recipe didn't always use cabbage. Sometimes they would use other vegetables like onions, carrots and beans.