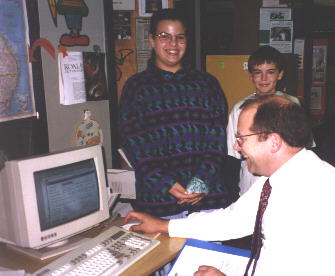 Delmar Comes "Home"
For Thanksgiving
---
Our warmest thanks to Mr. Bill Rinnier, Mr. Hugh Livingston (seated in the photo) and Mr. Art Cooley for the beautiful computer that will bring the students of Delmar to the Information Highway in graphics and color.
Now we can see our homepage on the World Wide Web with Netscape!!!
In their own words the children tell why they keep coming back to the computer lab during their recess time and after school.
It is mid-November and time to give thanks to all who have helped us build our telecommunication lab, our "Global Classroom," with their kindness and belief in the education of our young people. Four years ago the Delmar KIDLINK program began with a phone line threaded through ceiling tiles from the guidance office across the hall. Mr. William Wyatt donated the installation of a telephone line into the lab. A letter in PC Computing brought us donated modems from all over the USA and one that appeared on my doorstep on Christmas Eve several years ago.
Generous members of our community such as Mr. Samson Shupe, Dr. Joseph Cutchin, Dr. Andrew Veronis and 1st National Bank added to the lab with their donated computers from XT's to a 386. Phone lines for presentations were donated by The Shore Journal, Rita Foust and others. ICNet donated the PPP account which we use each day and the free Web space for our huge homepage that we can finally see in school with the donation of Mr. Bill Rinnier's 386. We thank The Shore Journal editors for their technical support and many articles about our projects. EXCEL, the interactive science museum in the Salisbury Mall, has given us technical support as well as a place to open the doors of the Global Classroom each Saturday at noon and during the summer months. As we approach Thanksgiving Day we have much for which to be grateful.
God bless you all!
Warm hugs,
Patti and the Delmar KIDLINK Kids
---
pweeg@shore.intercom.net
Return to Global Classroom