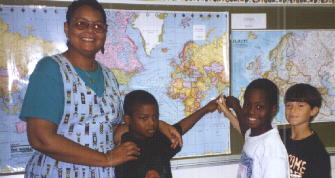 What Time is it in Sri Lanka?
Mrs. Hayward's Class
---
Arnav Manchanda is a student in Sri Lanka who has been writing to the Delmar Elementary students this past school year. Mrs Weeg continued the correspondence with him into our summer school days. New students met Arnav for the first time.
We asked:
>Arnav....is Friday your last day????
Arnav replied:
Yup, it was. Now two months off. And I started it with staying over at a friend's place, and playing cricket!...
-Arnav
We asked if cricket is a little like baseball and Arnav replied:
Hi!
Yea, cricket is a little like baseball, but I prefer cricket, since whenever I hit a hard one in baseball, theres always a little guy or (gal) there who just catches it. Thats annoying. :-). BTW, does your school have an end of year awards assembly? I got 5 awards! And my mum thought I was getting none. I was shocked ;-). Lets see; one for all A's & B's, one for effort, one for maths, one for computers (!), and one for drama. I hope this is not bragging to you... :-)...
See ya!
-Arnav
PS: My birthday's in 2 days! And we are having a party at Pizza Hut on Saturday the 29th (since my parents are busy). I am going to be 12. Yippee!...
---
Mrs. Hayward's reading students wrote to Arnav...
---
June 25, 1996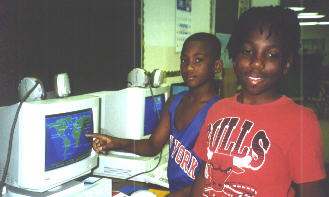 Dear Arnav,
My name is William. Do you have a Sega? Do you have a brother or a sister? Do you have a bike? Do you play football? Is it fun in Sri Lanka? Is the power still out for part of the day?
Your friend,
William
June 25, 1996
Dear Arnav,
I'm Brandon. Do you ride a bike? I have a black bike. Is it fun in Sri Lanka? I have a dog and it is black and brown. Is your power still off? Do you have friends? I have lots and lots of friends.
Your Friend,
Brandon Conaway
---
Arnav's responses...
---
From: Arnav Manchanda

Hello William,

Hi! I don't have a SEGA, but I do have a computer (which I prefer). I don't have any brothers or sisters. I have a bike, but, um, its toooooo small for me :-(.

I play lots of cricket. Nope, it's boring here in Sri Lanka, and the power is off for 5 hours a day! Yuck!

-Arnav

Hi Brandon,

I have a yellow bike, but its too small for me, but anyway, you can't ride here much since the traffic is terrible. I have a black and white cat. He is very sweet. I have friends, but most have gone of on holidays now. -Arnav

Hi!

Sorry for not replying - I have been very busy. I just turned twelve a few days back. And I have been having a lot of fun! :-)... Um, I think we are 5 1/2 hours ahead of GMT, I'll check, but I think that. We have power cuts at the moment from 10:30am to 2:30pm, and again from 6:30pm to 8:00pm. I have Internet at home! Yipee! Whats your homepage address? I'll look it up. Oops, its on your sig, i'll check. Bye!

-Arnav

Hi Marquita!

I am just fine, except for these power cuts. I just turned 12 on June 28th. I am also going to 7th grade next school year. I don't have a Super Nintendo, but I have my computer, which I use a lot... I don't have any brothers or sisters. Is it weird to have a step-brother? Bye!

-Arnav
Mike Burleigh's students in the United Kingdom were online using the KIDLINK IRC one morning during summer school. It was afternoon for them in the UK and Mrs. HAyward's students know all about that! The IRC is a real time chat that allows users to see each other's words as they are typed on the screen. It was an exciting ifrst experience for Mrs. Hayward, her students and for the young student, Alec, in the UK.
---
Search The Global Classroom
---
Patricia A. Weeg
pweeg@shore.intercom.net Return to Global Classroom