First Rain in 24 Years

Hi Nickle,
I am doing fine. I am very tired because we are working long hours. There is a pair of satellites called ERS-1 and ERS-2 that we are supporting. We are taking a track almost every 60 to 90 minutes around the clock. That is a lot of work.
There have been quite a few interesting things going on here lately. One thing I missed a few days before I got here is a rain. The last record of a rain here was in 1972. That is neat, a place where it only rains once every 24 years.
I have heard some about the blizzard. You missed quite a few days from school. I saw the first of the snow before I left, but it must have continued for a while. When things like this happen, please write and tell me about it. I like to hear what is happening back home.
Thanks for writing,
Dave
---
Hi Kristen,
The Helicopter ride was a lot of fun. The ride was noisy, but smooth riding. The helicopter had to transport about 8 people, so they had to make several trips. It carried 3 Coast Guard crew members, and 3 passengers. When we landed, we had to get out with the blades still turning. They told me to keep my head down, and I did.
I have a friend that I have not seen in a few years, that was a pilot for the State Police. He flew people to the hospital all the time. This may be the Trooper 4 to which you are referring. I hope you Mom is feeling better. I have had to be in the hospital a few times. It is not fun.
Thanks for writing,
Dave
---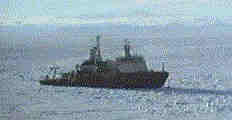 Hi Ashley,
The Ice Breaker was neat. It was over 300 feet long, and would push into the ice, and big chunks would break off and push to the side. The cutter came back the other day, and went in big circles to break the ice up. Later in the day, it pushed into solid ice and stopped. The crew then got out on the ice to play. I heard they played football on the ice.
The helicopter ride was a lot of fun. We traveled to Black Island and had a wonderful lunch. We sat in the kitchen and home made soup, and home baked bread. In the morning, Jill baked a blueberry pecan coffee cake, and we had brownies for dessert.
It was fun to meet Sandra Markle, but we did not get a chance to spend a lot of time together. She was only here for a few days, and was very busy. She Left yesterday on the Nathaniel B. Palmer.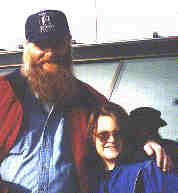 Zac has only written once, but we have talked on the phone a few times. I wish he would write more. I am not sure when I will be back, but it probably will be in November.
Thanks for writing,
Dave
---
Hi Kaley,

It is always nice to hear what is going on back home. I am glad you all got a good snow. It is not often you get a snow that is deep enough to play in. Things are going well for us here. The ice cutter is a special ship, that is made for breaking ice. It is over 300 feet long, and has a special hull that is thick enough to break the ice, without the ice breaking it. I am told there are also special tanks and pumps, that move water back and forth, to rock the ship as it cuts the ice.

Thanks for writing,
Dave
---
Hi Krystle,
I am doing fine, and I am in McMurdo, which is on Ross Island in Antarctica. It is summer here at this time, the seasons are opposite your seasons. It is the warmest time of the year now, and we usually get high temperatures in the 30's. The coldest time of year is in August, which is the warmest time of year for you. Just remember me when you go to the beach in the summer, that I will be here where it is winter, dark, and very cold. I heard about your blizzard. I hope you got lots of time to play outside in the snow.
Thanks for writing,
Dave
---
Hi Jennifer,
It is summer here now, and I am not bundling up much now. This past week, I usually have only been wearing a polar fleece jacket, which is like a sweatshirt. I will take your advice in a few months when it starts getting really cold. They do give us lots of heavy clothes to keep warm. I have been in bad storms before where we lost power. It can be scary, but you just have to wait it out. Sometimes it can be fun.
Thanks for writing,
Dave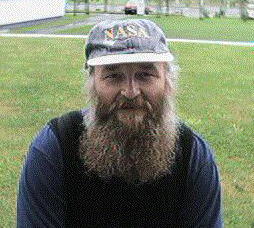 This picture of Dave was taken in New Zealand.
Hi Nickle,
I was not surprised when I met you because I had seen you picture on your home page. I thought I was going to be scared of the camera, but everything was happening so fast, I did not get nervous. I enjoy writing to you and all the kids, and also enjoyed meeting you in person. I am sorry we did not get more time, but there just was not enough time. I will visit again next fall when I get back. Do you think my beard will be longer then? I do not think you were stupid, you did a very good job in front of the camera. The TV crew did a very good job of piecing things together about Erebus. It could not have been better if we had planned it.
Thanks for writing,
Dave
---
Hi Casie,

I was glad to come to the school. Thank you for writing, because without you and the other kids, this project would not exist. I hope Nickle lets you see the tape. I think you will enjoy it. I have heard of Bill, but have never met him. Wallops is a large place, and there are many people there that I have not met.

Thanks for writing,
Dave

David Hess NK3T


dhess@shore.intercom.net Presently living in beautiful downtown McMurdo, Antarctica.
---
Patricia A. Weeg
pweeg@shore.intercom.net Return to Global Classroom