Ice-Cream Day
Mrs. Fletcher's Class
---
I Scream, You Scream, We All Scream for Ice - Cream
Mrs. Fletcher's second grade celebrated "Ice - Cream Day" on July 15th. The Students were given a real "hands - on " experience in making ice - cream.
We became interested in making ice-cream after reading "Jam and Ice-Cream" from the new Houghton Mifflin reading program.
Our "mini-unit" included activities across the curriculum which included Vocabulary activities - rhyming words, classifying etc., Writing - design your own ice-cream, Math Activity graph your favorite ice-cream, Social Studies -ice- cream history and Science - measuring ice-cream and ice-cream art. We had several literature books relating to ice-cream where we listened to stories, poems, and an ice-cream song.
The children really enjoyed the experience and commented that our own ice-cream was better than "Food Lions".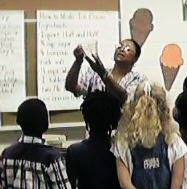 Through the eyes of a child's thoughts:
Ken Goslee - Making ice cream is hard work.
Bryan Harmon - Mrs Purnell tasted our ice-cream and wanted more.
TreVonte - It was a lot of fun.
Ryan - It was fun helping to make it.
Michelle - It was cold and delicious. I wish we could have it everyday.
Brandon J - we wanted more.
Brandon K - It was special to us.
Courtney - We shared our ice-cream with all the teachers.
Siri - We made vanilla ice-cream and made ice-cream cones.
Darius - We put sugar & salt in it. We put rock salt on the ice.
---
Search The Global Classroom
---