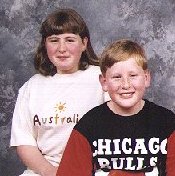 G'day Terrian!
We have something in common! I sing too. I am a musician, I play the piano and a little Recorder. I play Soccer and Badminton when I have some spare time, I am usually swamped down with homework.
I live in South Australia (good old down under) in a little town called Balhannah. If you look on a map of Australia you might Find Adelaide but I don't think that you will find Balhannah. Balhannah is south east of Adelaide.
In our country many people play a game called Aussie Rules. Its kind of like Rugby but it's played on an oval shaped field with four posts at each end of the field. The game is played with an oval shaped ball so it is really hard to control it. They are thinking about giving a demonstration of the game at the Sydney Olympics. I personally hate the game.
Emma
---
Hi Devin!
Im just a little bit older than you, Im 14. When is your Birthday?
In Australia there are huge deserts and the scenery is beautiful. It is really spaced out here, my dad has to drive 75 kilometres to work every morning.
Your's
Emma
---
Dear Michelle,
Hello how are you? I live in a small town called Balhannah. its really nice here, there are lots of trees where I live. The people up the road from us have a Koala in their tree, We have a Kangaroo that comes and lays in our front lawn in the summer. It's winter here now.
Love,
Emma.
---
Dear Michelle,
Im fine, how are you? I can send you a picyure of myself and a kanga but I will have to send it to you by airmail because I haven't got the right equipment to send it by e-mail.
I am 14 years and not quite old enough to drive, but I do reverse the car out of the drive every now and then! Sometimes dad takes me to the oval and lets me drive around it for a while. My dad says im a kid and my mum says im a grown up... I don't know what to believe. I am the shortest in my class at school. Everyone calls me Elf Chief.
Australia is very big. We have a lot of big things like the big bananna, the big lobster and the big rocking horse. The country side is where I live. It is very beautiful and I wouldn't want to be anywhere else.
I have 2 pets and they are both turtles. their names are Niles and C'C. At school we have heaps of pets like cows, sheep and their babies and even chickens! I have a duck at school, we called him ferdinard.
Your friend
Emma
---
Dear Matt,
We don't have wolves in Australia we have Dingo's. They're basically the same thing but are less ferocious. I have 2 turtles called niles and C'C (origional huh). The neighbours up the road have a Koala up their tree and we may have one too. But the Kangaroo's are the worst thing... they sit on the lawn all day and eat the grass. Dad trys to get rid of them but it never works. We have possums on the roof and they scratch all through the night, its so annoying.
In summer the temperature gets up to around about 40 degrees C, that's quite warm here. In winter (now) its very cold and is about 13 degrees C, sometimes it comes down to about -3 over night.
Your's
Emma
---
I found out that the school which I go to has the Internet and also a homepage!
Here you go, Check it out!
http://users.pinnacle.net.au/oas/
have fun!
Em
---
Dear Michelle,
I'm fine. How are you? It is quite cold here in Balhannah and is only about 12 degrees C these past couple of days. Last night it got down to -2 degrees C and it was freezing! I had my electric blanket on all night.
from Emma
Dear Jenifer,
We have kanga's all over the front yard. They take up most of the space and eat all the grass which is now green. The Neighbours have a Koala up their gum tree up the street and we may have one or two of our own. the possums scratch on the roof every night and we can never seem to get to sleep because of them.
your friend Emma
---
Dear Jenifer,
I have seen many live kangaroos some are even on the front lawn, but only in summer. My Parents took a picture of me holding a koala at a wildlife park. I think it's in the box of pictures in the spare bedroom.
Do you have any pets? I do, I have 2 turtles and I used to have fish but they had a disease and died. I also had a cat. his name was bart. We took him to the vet but he ran away and he has never come back.
Emma
---
Dear Kelli,
As you already know Im Emma.... I am from Balhannah South Australia (you know the land down under). it gets really hot down here in summer about 40 degrees Celsius, which is quite warm. All the animals sit under the huge trees we have out the front. But in winter it comes down to about 13 degrees and it is really cold.
What is an Ocean community? I have never heard of anything like that.
I have seen The Lost World which wasn't too good cause I had read the book before I saw the movie. I think it flopped in the end. Have you seen it yet? I like Casper too, It had a good story line even though it was about a ghost. I thought it was very imaginative.
My favourite music is Jazz and Blues. I'm a musician so I play a lot of that kind of thing.
Pizza is everyone's fave food, I want to be different so my favourite food is....um... lasagna, it is also my brother's favourite food (must run in the family).
From Emma
---
G'day Shakia!
I live in The Adelaide Hills in a little town called Balhannah. the town has only got about 3-400 people living in it. I go to a school called Oakbank area school which is about a kilometre up the road. It's nice and all but I am too smart for the school.
My favourite foods are: lasagna, BBQ's (cookouts), fish and chips, and chicken. My favourite sports are Soccer, Badminton, Volleyball and Hockey.
You are the same height as me! I am short for my age, I'm 14, 15 in Janurary. My country lifestyle is typicaly boring. There is never anything worth while to do. Adelaide is about 30 kilometres away and we hardly ever go there. The closest ocean to where I live is The Indian... I think...
Your friend Emma