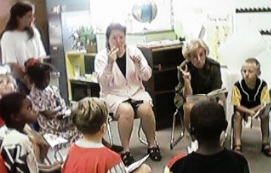 Fifteen Books So Far!
Ms. Eberling's Class
---
Ms. Eberling's reading class has been busy reading many books in summer school. They have read fifteen books so far! Keith Booker and Turaine Burgess enjoy reading the rhyming books with Keonte Bratten and Janelle Tull. Tommy Beauchamp and Tiffany Conway have been working very hard at decoding the words for their stories. Jasmine Farrare and Joe Sparrow have learned that reasonable predictions are good reading strategies.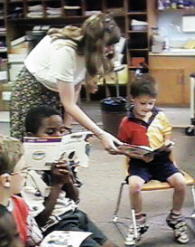 Mrs. Jill Stanford is also involved in our summer school program. She is an educational interpreter/tutor for Bobby. Heather Allen and Tracy Founds are undergraduate students from the university. They are providing assistance to the students as well as administering some diagnostic tests. Mrs. Bynum is our assistant who assists the students with activities and provides them with the opportunity for individual oral reading.
---
Search The Global Classroom
---
Patricia A. Weeg

pweeg@shore.intercom.net
Return to Global Classroom