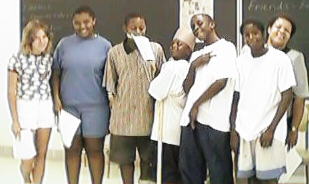 Real, Live Actors!
Miss Dennis' Class
---
Miss Dennis' sixth grade reading and language class had fun while we learned. First of all, Miss Dennis made sure we got our grammar and writing skills in. Usually we wrote journal entries and if we had time we shared them. We heard lots of funny and exciting experiences.
We read several plays. One was "Sunrise in My Pocket," a tall tale about David Crockett. We also read a radio play called "Blue Willow." This play was about a little girl who had treasured a special plate and at one point she thought she had to part with it to pay the rent so her family could have a place to live.
We had lots of fun making our props, practicing and actually performing the play. We learned that working together is very important.
In conclusion, we realize more and more that reading plays a major part in every day life and reading can take you around the world.
Roxy Dennis
---
Search The Global Classroom
---
Patricia A. Weeg

pweeg@shore.intercom.net
Return to Global Classroom