Meteorite From Mars
9 Oct 1996
Hi Patti,
A few months back, there was a lot of news coming down here about a meteorite that showed that life was on Mars. Do you, or more importantly do the kids remember? The lady that found the meteorite is now the lab manager in the lab where I work. I have not asked her, but maybe I could get her to answer a "limited" set of questions for your kids.
Dave
---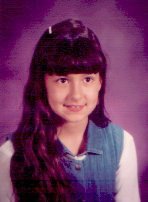 Dear Mr. Dave,

How are you? Thanks for writing to all of us. We found the meteorites and Mars homepage. Go to this address:

http://www.jpl.nasa.gov/snc/index.html

We found information about Ms. Roberta Score here:

http://www-curator.jsc.nasa.gov/curator/antmet/AMN/amnaug95/petdes.htm

I have one question (well actually I have more than that but here is the main question that I have!!) How do you REALLY know that there is life on Mars? Are you positive or pretty sure? I hope that you can write to me about this.

Your Friend,
Stephanie Palmer

Hi Stephanie,

I am doing fine. I have found several pages about life on Mars. I think Robbie can give you more information about that.

Take care,
Dave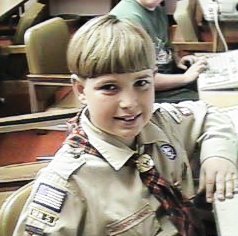 Dear Mr. Matt and Mr. Dave ,
How are you and thank you for writing back. I have not gotten any mail except your letter. I have not been writing much in the past few days. My soccer team is doing very good. We are 7 and 0 seven wins and zero losses . When are you going to come and see us ? I hope it is soon. Can you bring Zach when you come?
Can you see if the lady that found the meteorite can write to us at school? How did the lady find the meteorite? Where did she find it? How does it show that there is life on Mars? What did she do with the meteorite? How big was the meteorite is space and how big was it when it hit the earth? Have a good Halloween .
Andrew Giordano
Hi Andrew,
I will try to bring Zach when I come. At this point I am not sure when it will be. Zach is not playing outdoor soccer this year, but I believe he is going to play indoor soccer. Zach likes the indoor game a lot.
I talked with Ms. Robbie Score, and I believe she will be writing to the kids. She will be able to answer all your questions about the meteorite.
We will not have any trick-or-treaters here. Zach said he would save some candy for me.
Thanks for writing,
Dave
Dear Mr. Dave,
Hi My name is Krista. What was the meteorite like? How big was it? So, how are you? I am doing fine. Is it relly cold there? It is getting cold here. But I bet it is not as cold as it is there. It rained really hard yesterday. I hope you write back.
Your Friend,
Krista
P.S.S - Please write back
P.S.- Keep warm

Hi Krista,
It is Spring here now, and the temperatures are warming up. It is zero here now, which feels quite warm to me. Last January it rained here for the first time in 24 years. I will be glad to see rain again.
I believe Ms. Robbie Score will be writing to the kids, telling them all about the meteorite.
Thanks for writing,
Dave
---
Search The Global Classroom
---
Patricia A. Weeg
pweeg@shore.intercom.net Return to Global Classroom