Questions From Alisha and Christopher
in New Zealand
---
Hi
My name is Alisha Anderson. I am ten years old and in room 12. Has there been any blizzards in Antarctica while you have been there? What does your job involve in Antarctica? Have any of your snow mobiles crashed while you've been there? Is it true if it gets too cold your hair starts to fall out?
Yours sincerely,
Alisha Anderson
P.S I hope you can answer my questions.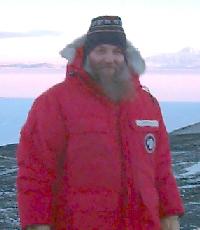 Hi Alisha,
We have had some bad storms, where the visibility is very low. They call these conditions whiteouts because everything is white. The snow here is very fine and dry due to the temperature. The snow blows into drifts that pack down.
I work for a contractor to NASA, which is the space agency for the USA. I work at a satellite tracking station gathering science data for scientists in the USA. The satellites we have been tracking are being used to track the ice movement in Antarctica. Most of Antarctica is covered by ice that is constantly and slowly moving.
We have snowmobiles here, but I do not know of any crashes. We also have trucks, and track vehicles for snow. There have been two fires this winter with track vehicles. The NZAP Scott Base lost a Haglund on the ice shelf due to fire. The USAP lost a Sprite on the Castle Rock route to fire. Both vehicles are similar, but made by different companies. Nobody was hurt in either incident. Whenever we travel out of town, we have radios and emergency supplies in case of problems.
I have never heard of loosing hair due to cold weather. I do not know if you have seen my picture on the Internet pages, but I do not have a lot to lose! We have had some cold weather, but I have not noticed any more hair loss. Frostbite and hypothermia are the greatest dangers from the cold. Another problem here is the low humidity. This area is technically a desert, and most people think that deserts are always hot sandy places. The humidity here is commonly 5-10%. I need to drink several liters of water daily to maintain my health.
Thanks for writing,
Dave
---
Hi

My name is Christopher Manson and I go to South School in Invercargill.I am a standard 4 and I am ten years old. I was wondering if you would like to answer some of my questions on Antarctica? What is the weather like there? How do you cope with the weather? How long does it take to get to Antarctica?

Yours sincerely,
Christopher Manson

Hi Christopher,

The weather here is cold, windy and dry. The temperatures this time of year are about -20F to -30F. The wind can drive the wind-chill to colder than -100F. At that temperature, your skin can freeze in less than 30 seconds. You are probably used to centigrade readings, so you will have to do a little conversion to see how cold it is here. The winds can get to hurricane strength and stay here for days. Last spring some friends of mine were stranded about 20 miles from here on Black Island. The winds were over 100 miles per hour for several days.

I have not seen the sun in several months, but it will rise in 3 weeks. The moon is full now, and is going in a big circle in the sky. You can see it 24 hours a day as it goes in a big circle.

It is very important to have proper clothes to cope with the weather. There is a clothing center in the Antarctic Center in Christchurch where they give us clothes for our trip. We return the clothes on our return, so others can use them. I dress in layers so that I can remove clothes if I get too warm, and put them back on when I get chilled. Most of the clothes have gone to synthetic fibers in the past few years, replacing the traditional wool. Both the synthetics and wool will keep their insulation when damp. If I am going out to work in the cold, I wear three layers of pants, three or four layers on my upper body, one pair of wool socks with special boots on my feet, a warm hat, and two layers of gloves or mittens. I have a very warm down parka with a fur trimmed hood that keeps me very warm. I usually pull the fur down against my face. I have a face cover and goggles if it is really cold.

I live on the east coast of the USA in a town called Snow Hill in the state of Maryland. It takes about 26 hours of planes and airports just to get to Christchurch. There I spend a few days to get ready to go to the ice. I get all my clothes, and the schedule for the trip to the ice. Many times the planes get canceled or turn back due to weather, so the average stay in Christchurch is three days. The plane ride to the ice depends upon the type of plane. I have always traveled on the LC-130 planes, which take about eight hours to fly to the ice.

Thanks for writing,
Dave
---
Hi Dave

Thanks for the letters. The kids were very excited to hear your replies. This is the first time they have used E mail and they are pretty amazed by it all, so are we.

We are a school in Invercargill which is on the southern coast of the South Island of New Zealand. The children who have sent the mail are nine, ten and eleven years old. They are at the end of their primary schooling and next year some of them will be moving on to Intermediate School.

I (tracy) am the normal classroom teacher and Ben is a third year teacher trainee who is currently responsible for the class for three weeks. I come from a small town called Clyde(near Queenstown-do you know this place?) and Ben is originally form Timaru which is two hours south of Christchurch. Thank you for writing such full answers to the children's questions. It will help them to more fully understand what life is like in the Antarctic. Hopefully they now know there are no polar bears or igloos or eskimos down there!!!

We look forward to your next replies,
Tracy and Ben
Invercargill South School sthsch@es.co.nz

Hi Tracy,

I thought the polar bear questions would only come from children in the northern hemisphere. I asked some folks about the location of Invercargill and found I was way off on the pronunciation. At Scott Base in the pub is a very nice map of New Zealand. I will have to look for Invercargill next time I visit Scott Base. Next to the New Zealand map at Scott Base, is a map of the USA, with a sign above labeling it as New Ireland.

I have been in Christchurch three times, but have not traveled far from town. Possibly when I get off the ice this time, I may try to do a little traveling on the South Island.

Hopefully you will find that the Internet can be a very good learning tool for the children.

Take care,
Dave
David Hess NK3T


dhess@shore.intercom.net Presently living in beautiful downtown McMurdo, Antarctica.
---
Search The Global Classroom
---
Patricia A. Weeg
pweeg@shore.intercom.net Return to Global Classroom